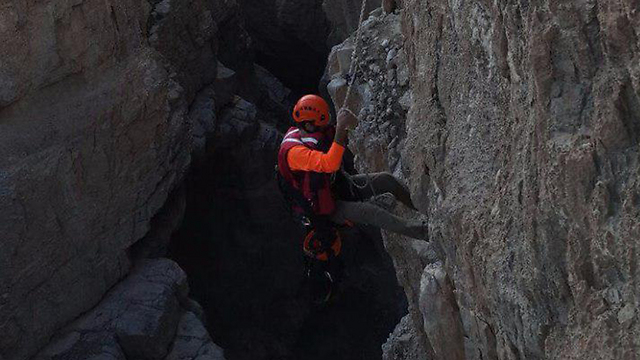 A 24-year-old yeshiva student was evacuated from the Darga Stream, also known as Wadi Murabba'at, after he wasn't feeling well enough to climb out of the stream. He had been hiking together with a number of friends from his Yeshiva on the first day of Bein Hazmanim.
Members of the Megillot Search and Rescue Unit were dispatched to the area just after 1:00 p.m. on Sunday afternoon, after the police received a report that the young man was feeling ill.
After the Search and Rescue Unit members located and reached the hikers, they were told that the group had entered some of the cisterns in the area and that the boy had gotten wet. A few hours later, the young man began to feel ill and was apparently suffering from hypothermia.
Due to the nature of the terrain, a helicopter could not land in the area. Rescue Units from Ein Gedi and the Judea and Samaria division of the Fire Department were called in to help create a complex rope extraction together with the Search and Rescue Units. They succeeded in evacuating the young man from the Wadi and brought him to a location where he could be extracted by helicopter. He was brought to Hadassah Ein Kerem hospital in moderate condition.
More than 30 volunteers from various units were involved in the evacuation.
(YWN Israel Desk – Jerusalem)