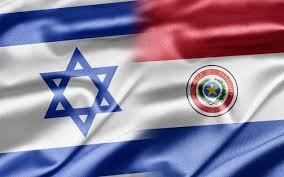 Following the lead of the United States and Guatemala, the Embassy of Paraguay moves to Yerushalayim from Tel Aviv.
After the transfer of the US embassy in Israel from Tel Aviv to Jerusalem – and the transfer of the Guatemalan embassy in its wake – today, Monday, 7 Sivan, will register another history when Paraguay will also transfer its embassy to Jerusalem.
Paraguayan President Horacio Cartes has landed in Israel on the occasion of the transfer ceremony of the Paraguayan embassy to the capital. He was met by Public Security Minister Gilad Erdan at Ben-Gurion Airport, who praised him on his nation's decision, saying, I thank you on behalf of the State of Israel for your decision to move the Paraguayan embassy to Jerusalem, a decision that demonstrates the depth of our relations and constitutes further strengthening of our sovereignty in Jerusalem."
Erdan added that "President Cartes' decision to move the embassy to Jerusalem is an important step that recognizes Israel's right to establish its capital, thereby joining the US and Guatemala, and I have no doubt that more countries are on the way. Recognition of Jerusalem represents a change in the global political map: more and more countries support our positions and desire to strengthen relations with us. In recent years Paraguay has proved a series of courageous decisions because it is a true friend. I congratulate the president for his support of Israel and his leadership. "
As noted, Paraguay is the second country to transfer its embassy to Jerusalem following the American decision to do so. Last week, the Guatemalan embassy was inaugurated in the presence of Guatemalan President Jimmy Morales.
Published on Isru Chag Shavuos from Jerusalem.
(YWN Israel Desk – Jerusalem)