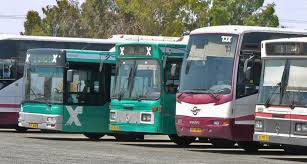 The union of public transportation drivers on Thursday, 19 Elul, released a message saying "There is no reason to discriminate against bus drivers in private companies."
The union announced it will be striking on Sunday, 22 Elul, the first day of school for Israel's public schools. Both 'Egged Tachbura' and 'Superbus' will be striking urban routes in Netanya, Afula, Beit Shemesh, Tiveria, Beit Shean, Migdal HaEmek, Gush Etzion, and some of the internal Jerusalem lines. The drivers' union is protesting the breach of an agreement by the companies, according to which the wages of the drivers should increase to NIS 43 an hour in August. It has not become known that the Finance Ministry is withholding the funds required to pay the salary increase.
"The state says today unequivocally – public transport workers in private companies are worth less than Egged drivers," explains Haroun Shubash, who is the union head in the Superbus Company. "About two months ago, the state agreed to pay for a wage increase to NIS 43 per hour for Egged drivers only. This is a complete disregard for the fact that over half the drivers in Israel are employed by private companies. We fought for comparable salary and conditions and now, the state is backing out. The refusal [to honor the agreement] is unclear, as there are 3,500 drivers in the industry. The industry is collapsing – what hope does the state offer drivers? Who will come and work under these conditions? This directly impacts transportation in the periphery negatively. The fact drivers are leaving crates an even greater burden.
Other representatives and drivers explain that drivers are working under harsh conditions and they must receive what is promised to them in the agreement.
Regarding the strike and lines in Jerusalem, the strike will include lines from Binyanei Ha'uma to Maale Adumim and Givat Ze'ev, as well as lines in Netanya, Beit Shemesh, Afula, Yokneam, Shapirim Parking, Mevasseret Tzion, Gush Etzion, Maale Adumim, communities boarding the Binyamin Region, Migdal HaEmek, Beit Shean, Kiryat Tivon, Dalit el-Carmel and Ossifa.
(YWN Israel Desk – Jerusalem)