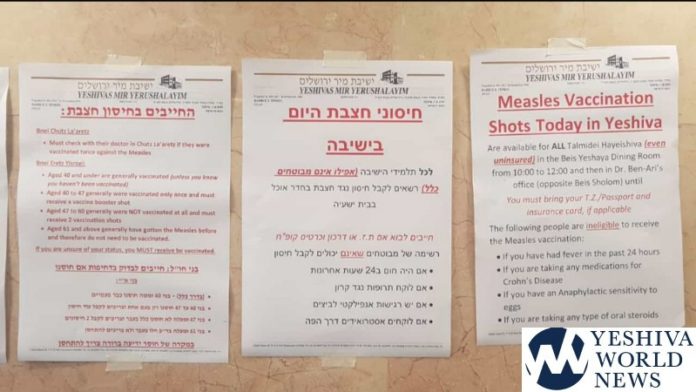 Health Ministry officials in Israel and around the world are concerned with the increasing spread of the measles, the likes of which we have not seen in many years.
More than 1300 people have been sickened in Israel, and an unvaccinated 18-month-old child was R"L killed.
Thee outbreak has spread to the Frum communities in the New York / New Jersey area, including Monsey, New Square, Williamsburg and Lakewood, where the so-called anti-vaxxers are under fire for endangering the other members of the community, those who comply with guidelines and have had themselves and children vaccinated.
On Tuesday, 28 Marcheshvan, eight bochurim from the Mir Yeshiva were hospitalized, diagnosed with the measles. This includes local bochurim and some from overseas. Medical personnel arrived at the yeshiva on Tuesday morning and the dining hall was converted to a medical clinic as bochrim were vaccinated. (as can be seen in the photos attached above and below) Vaccinations were given to local and bochrim from abroad learning in Mir.
Rabbi Dr. Menachem Chaim Breyer, Deputy Medical Director of Bnei Brak's Mayanei HaYeshua Hospital and a representative of the Rabbis for Medical Ethics on Tuesday morning spoke with Kol Chai radio host Betzalel Kahn, seeking to highlight just how worrisome the situation is.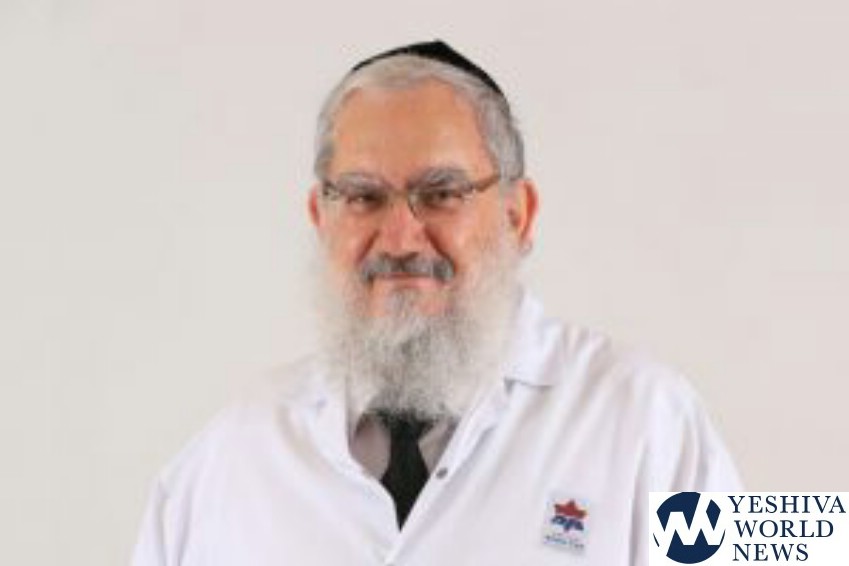 Rabbi Dr. Breyer explained "The fear is not just in Israel, but around world, and while there were 34 documented cases of measles in Israel in 2017, today, there are already 1350 cases in Israel, and that number of climbing. In addition, in one-third of the cases there are medical complications, and the mortality rate in these cases is 1:1000".
Many are getting vaccinated now, after the outbreak, and Israel's Health Ministry has launched a major campaign, an effort to educate the tzibur and a call to all whose children are unvaccinated, to come and get vaccinated immediately. Similar cries have been heard in Monsey already, as well as other places.
Rabbi Dr. Breyer explains that while with many viruses if one is exposed, it is not that likely to spread to others. However, he explains the case regarding the measles is not so, since it is very aggressive and if 100 people are exposed to the virus, 90 will become ill as a result so the spread is rapid and worrisome. He mentioned the experts in the Health Ministry are also considering to begin vaccinating the little ones at the age of 9 months instead of today's norm of one year.
Kol Chai:
Do we know what caused the spread this year, above previous years?
Dr. Breyer:
We don't know but someone who visited Israel from abroad brought it here. What is certain is the persons who do not vaccinate their children are a major contributory factor and these children infect everyone around them, and anyone they come into contact with.
I have been visiting with Gedolei Yisrael and HaGaon HaRav Moshe Sternbuch Shlita instructed me to delve into deeper and to bring him information to determine the magnitude of the illness, and recommendations as to what needs to be done.
In a letter released by the Ravaad Eida Chareidis, Rav Sternbuch states specifically it is the responsibility of every father to make certain his children are vaccinated, bringing quotes from Shulchan Aruch citing the matter of שפיחת דמים, causing loss of life. Dr. Breuer told Kol Chai those who do not vaccinate their children are not aware of the damage they are causing and the responsibility they bear for the spread of the illness in proportions that have not been seen in decades.
Kol Chai:
The illness today is primarily in chareidi areas?
Dr. Breyer:
I don't want to respond right now.
Kol Chai:
This is not speaking ill of any population but simply providing factual information to the chareidi tzibur listening to us now.
Dr. Breyer:
The illness came from a person visiting Israel from abroad but if parents vaccinated their children, we never would have reached the numbers we have today. Why do these people gamble with the lives of their children, after all they [the others] are not hefker.
Rav Sternbuch realizes what is taking place and admitted his is thinking if this possibly demands declaring a day of tefilla or a fast day, so we must realize the magnitude of what we are facing, the spread of the illness as we have not seen in decades. There are almost no reactions to be concerned with and I one again call on parents to have their children vaccinated immediately.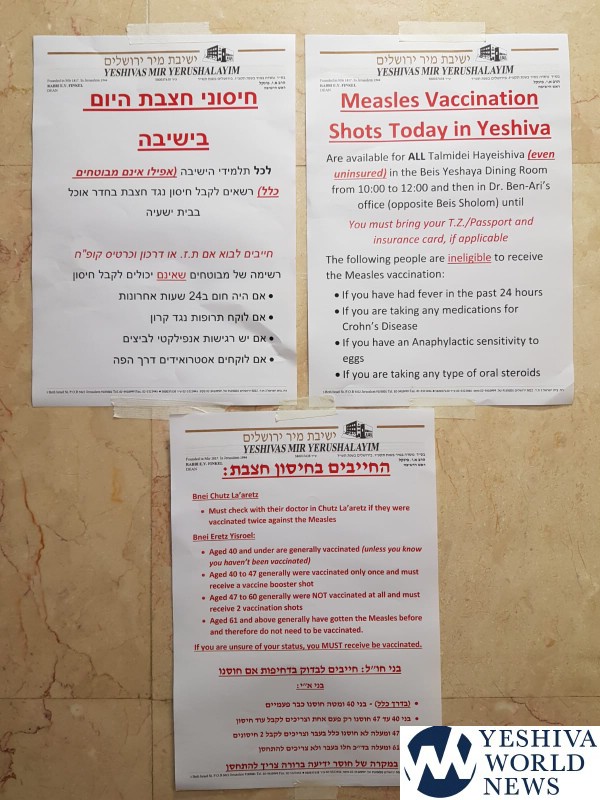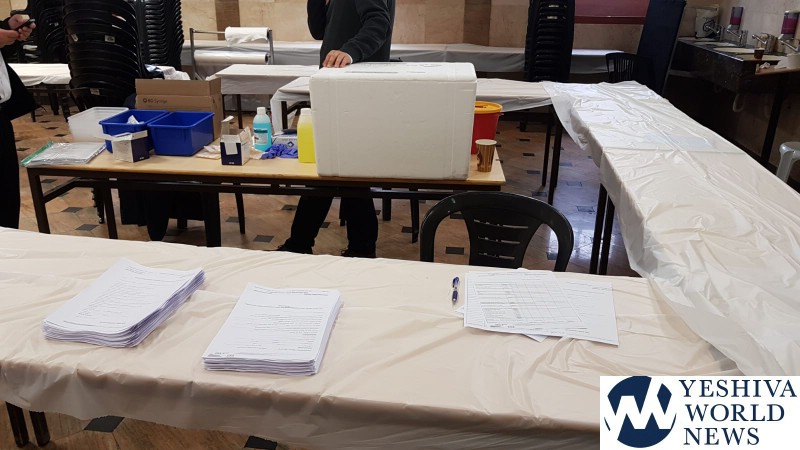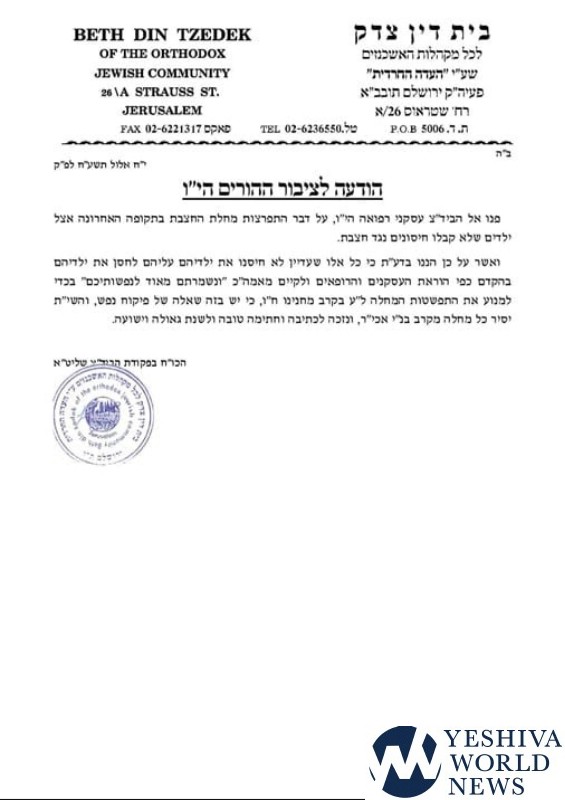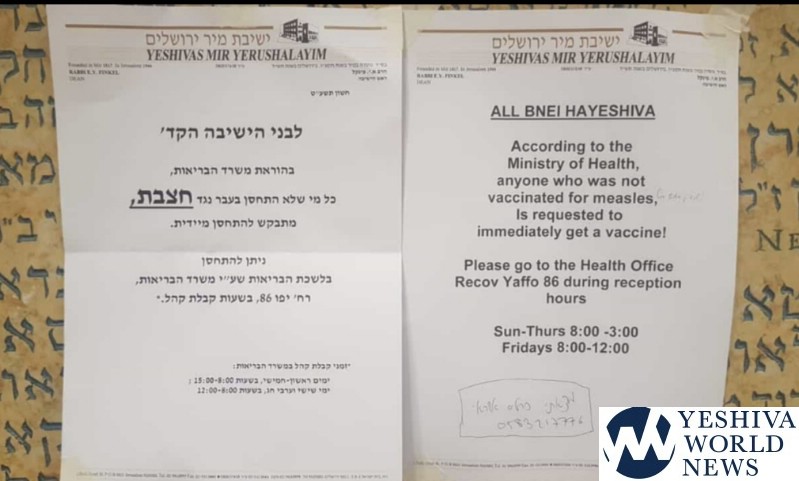 (YWN Israel Desk – Jerusalem / Photo Credit: Hospital website)