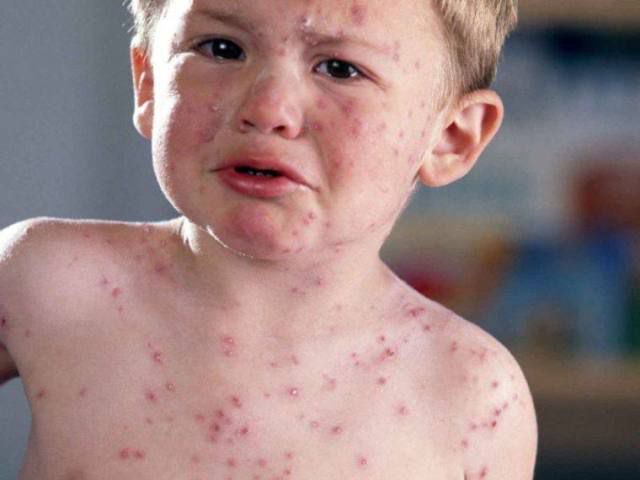 "Whoever isn't vaccinated is a murderer" – so reads a Kol Koreh signed by leading Gedolim and Poskim in Eretz Yisroel. The letter was issued in an attempt to curb the rampant spread of the Measles currently spreading through Chareidi communities in Israel, as well as in other communities in Israel and around the world.
Last week, an unvaccinated infant R"L died, and more than 1300 have been sickened with the disease which is preventable with a regular vaccination.
The Gedolim who signed the Kol Koreh include: Hagaon HaRav Yitzchak Zilberstein, Hagaon HaRav Shimon Ba'adani, Hagaon HaRav Sriel Rosenberg, Hagaon HaRav Moshe Shaul Klein and Hagaon HaRav Menachem Mendel Lubin.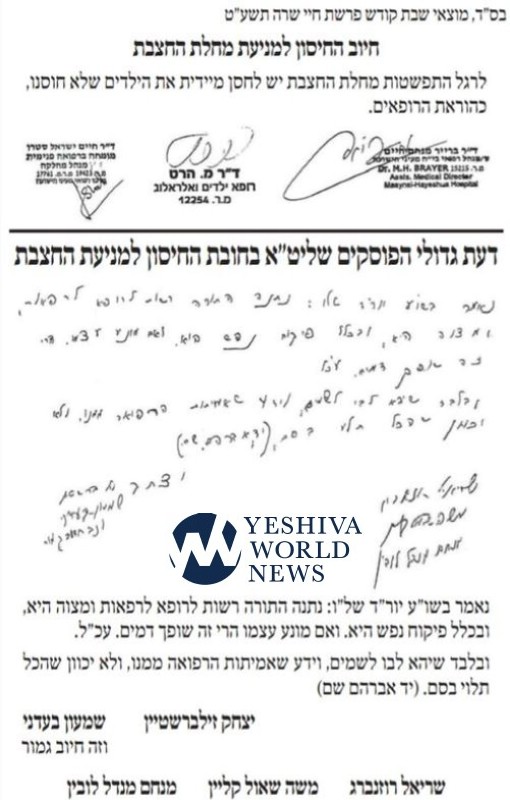 HaRav Shmuel Fuerst of Agudath Yisrael of Illinois also joined the growing list of Poskim releasing Piskei Halacha directed towards the anti-vaxxers, following the measles outbreak which has spread across many Chareidi communities.
Rav Fuerst says he did alot of research into the issue (of vaccinations), and released the following message (audio below, transcribed by YWN):
"Every child must have vaccination shots. And a school should not take in any kids that were not vaccinated because of the Issur of 'Lo Saamod Al Dam Reacha' – because another child can catch this sickness. It can be measles, mumps, polio or any of these types of illnesses which are almost completely unheard of, and now we are hearing of them because people are not getting vaccinations.
"If you have a playgroup, you must make sure that all the children are vaccinated. If there is a child who is not vaccinated, you (the playgroup owner) must notify all the other parents, because you are putting them all in jeopardy".
Rav Fuerst says this applies to children simply going to play at another child's home. If they are unvaccinated, the other family must be notified.
At least 8 Bochrim in Yeshivas Mir Yerushalayim have been hospitalized, a child was rushed into Intensive Care in Rockland County, and many others hospitalized.
On Tuesday, YWN reported about a letter released by Hagaon HaRav Moshe Sternbuch, who stated specifically it is the responsibility of every father to make certain his children are vaccinated, bringing quotes from Shulchan Aruch citing the matter of שפיחת דמים, causing loss of life.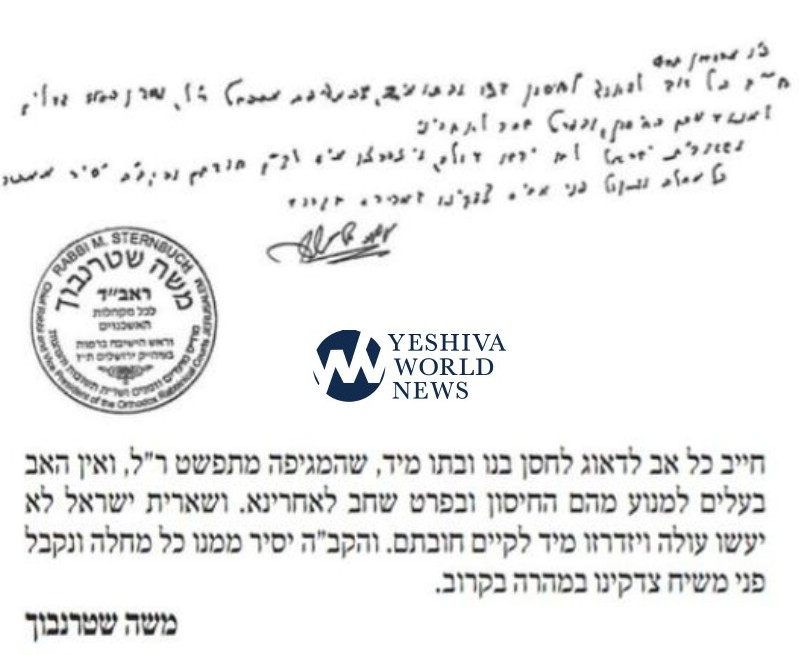 ROCKLAND COUNTY UPDATE
In Rockland County, Refuah Health Center has taken the lead in fighting the outbreak. Refuah has dedicated much time and resources to assist the community and its families. Specifically, since October 2, 2018 Refuah has dispensed 2,585 MMR vaccines and the number continues to increase daily. Additionally, Refuah has altered its service delivery to prevent unnecessary exposure include the following:
– Newborn Mobile: Babies under the age of 6 months are not eligible for their first MMR vaccine and receive little immunity from the birth process or mother's milk. To accommodate our most vulnerable patients, Refuah is offering newborn well and sick visits aboard a mobile parked outside of the Center. This reduces chances of exposure which result from mingling with the general public. The infant only mobile is open daily.
– Front Door Triage: All patients presenting for a medial visit check in with a nurse, stationed at the front of the Center. The nurse takes the patient's temperature. Patients with elevated temperatures are escorted to a waiting area for further evaluation. In some instances the patient is asked to wear a mask and is escorted directly to an examination room.
LAKEWOOD UPDATE
On Wednesday morning, the New Jersey Department of Health informed YWN that a 5th case of measles has been confirmed in Lakewood. CHEMED Health Center has so far administered well over 1,000 MMM shots. Dr. Shanik has given hundreds of vaccinations as well.
NYC:
The attached letter was sent to all school principals, as well as the Agudath Israel of America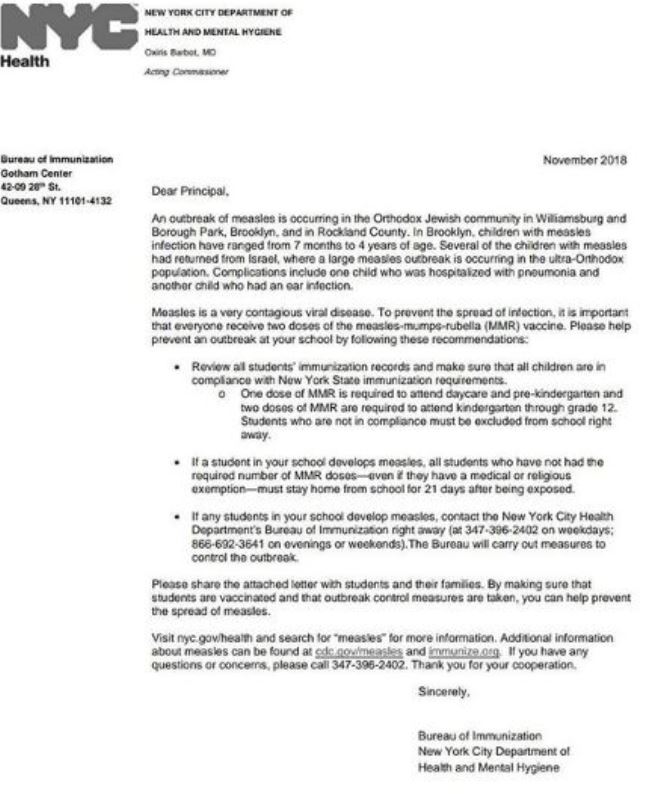 (YWN World Headquarters – NYC)