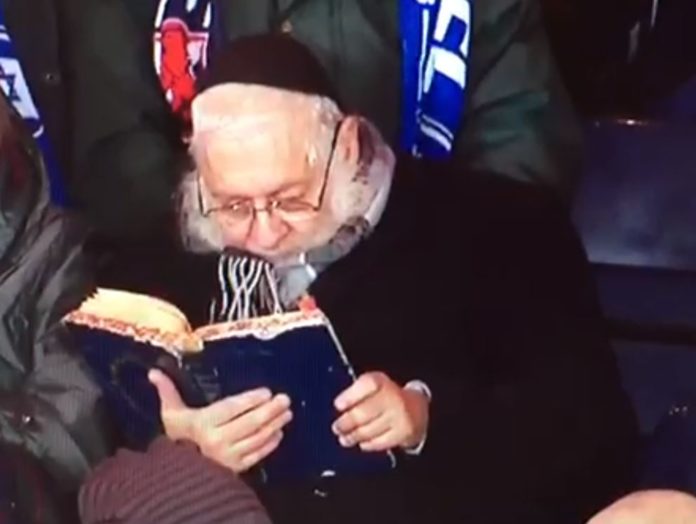 TV cameras spotted an unusual sight during the Israel vs Scotland soccer match on Tuesday night.
A Rabbi appeared to be reading a "book", completely oblivious to the excitement going on in the stands around him.
YWN has learned that the rabbi is none other than Rav Zeff Leff from Moshav Matisyahu in Eretz Yisrael, who is in Scotland to visit his married daughter and grandchildren.
Rav Leff's son in law, Rabbi Yossi Bodenheim, works as a campus rabbi for the University Jewish Chaplaincy, helping draw young Jews closer and remain connected to Yiddishkeit. The couple was accompanying a group of Jewish students from Scotland to the game, and Rav Leff and his Rebbitzen went along to support their children in the exceptional Kiruv work they do.
Rav Leff brought along his sefer, (possibly a Gemara Talmud Yerushalmi) and continued learning during the match.
Israel had just taken a 1-0 lead. "I think he missed the goal," said the surprised announcer. "Must be a good read!" he added.
Israel wound up losing 3-2 in the match, a qualifier for the Euro 2020 tournament.
Rav Leff's son Shimon later told Israeli newspaper Yisrael Hayom that his father had likely laughed when he heard that he had gone viral on the internet. He had not yet spoken directly to his father, but he had heard his initial reaction to being the star of the game.
"The announcers had said that he was probably praying for a positive outcome in the game, but he said that that was Fake News," said Leff. "He was learning and not saying Tehillim."
Rav Leff teaches and lectures regularly at English-speaking Yeshivas, girls' schools, and other institutions in Israel, as well as in England, South Africa and the United States.
View this post on Instagram