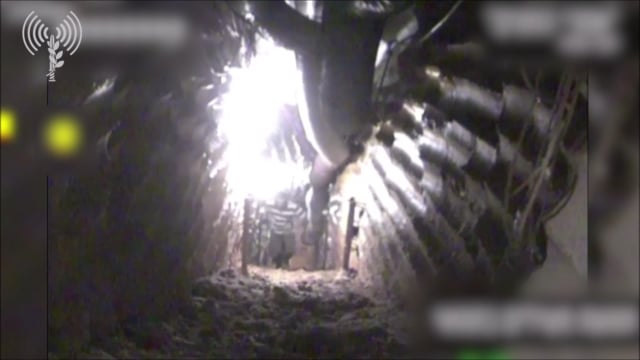 Prime Minister Netanyahu says the tunnel built by Hezbollah that extended inside Israeli territory is part of a wider effort by the Iran-backed terror group capture the Galilee from Israel.
The Israeli military launched an open-ended operation – codenamed "Northern Shield" – Tuesday to destroy what it said was a network of attack tunnels built by Hezbollah, saying it had foiled a plot by the Iranian-backed militant group to carry out a deadly infiltration in northern Israel. The IDF said the mission had been in the works for a year and a half.
Israeli forces did not enter Lebanese territory, and there was no immediate reaction from Hezbollah. But the Israeli announcement threatened to push the bitter enemies closer to an open confrontation for the first time since a bruising 2006 war. The military said it had protectively increased forces along the border and warned Hezbollah to keep its distance from the tunnels.
"Hezbollah knows well that whoever attacks the state of Israel will paid a very heavy price," Prime Minister Benjamin Netanyahu said in a nationally televised address in the evening. "What has been revealed to you now is but a small part of the bigger picture of our preparations and our activities and the activities we're planning."
Hezbollah is believed to be far more powerful than in the monthlong 2006 war, in which it battled Israel to a stalemate. The group has gained valuable battlefield experience fighting alongside Iranian and Syrian troops in Syria's civil war, and it is believed to possess an arsenal of 150,000 rockets and missiles capable of striking virtually anywhere in Israel.
The Israeli operation began shortly after Netanyahu returned from a surprise trip to Brussels to meet U.S. Secretary of State Mike Pompeo. Netanyahu said he had discussed the operation with Pompeo, and he planned to talk to other world leaders, including the U.N. secretary-general.
The following are the full remarks by Netanyahu:
"Good evening.
This morning, the Israel Defense Forces launched a campaign to expose and neutralize a network of terror tunnels on our northern border with Lebanon. These cross-border terror tunnels were built by Hezbollah with direct support and funding from Iran. They were built with one purpose in mind – to attack and murder innocent Israeli men, women and children. This is a grave violation of Israel's sovereignty, and a gross violation of UN Security Council Resolution #1701. It is an unacceptable act of wanton aggression.
The terror tunnel that was exposed today was built under a home in a civilian neighborhood in southern Lebanon. Now, this is just one more example of how Hezbollah is committing a double war crime. They target civilians while hiding behind civilians. And this must be condemned loudly and clearly by all nations that care about peace, freedom and human dignity.
WATCH THE FOOTAGE BELOW – SEE A HEZBOLLAH TERRORIST GET SURPRISED BY THE IDF
I have a message for the people of Lebanon: Hezbollah is putting your lives in danger. They are sacrificing your wellbeing to serve the aggressive purposes of Iran. Israel holds the Lebanese government accountable for all terror activity emanating from Lebanon against Israel.
Like any other nation, Israel maintains the right to defend itself. We will continue to do all that is necessary to defend ourselves against Iran's efforts to use Lebanon, Syria and Gaza as forward terror bases to attack Israel.
Now, just as we have exposed and dismantled the terror tunnels of Hamas alongside our border with Gaza, we will expose and dismantle the terror tunnels of Hezbollah alongside our border with Lebanon.
The Hezbollah tunnel video… needed sound.

Israeli TV news said the tunnels were wide enough and tall enough for motorbikes. We can joke, but this could have been a real invasion. #Hezbollah @IDF @TheMossadIL pic.twitter.com/cbqdfcSf1k

— 🇮🇱Dr Brian of London (@brianoflondon) December 4, 2018
As you know, yesterday I met in Brussels with US Secretary of State Mike Pompeo. We discussed the imposition of new sanctions against Hezbollah after this act of aggression. And I will also speak in the coming days with other world leaders along the same lines, including the UN Secretary General Mr. Guterres.
I have asked Israel's delegation to the UN to call on the UN Security Council to convene an urgent meeting against Hezbollah and its actions.
Israel will continue to do all that is necessary to protect our people and defend our borders.
Thank you."
(AP)