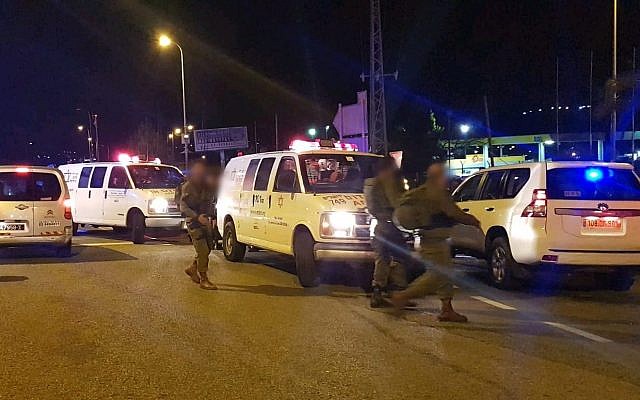 The condition of the infant who was delivered following the drive-by terrorist shooting attack near Yishuv Ofra on Sunday night has deteriorated.
The 21-year-old mother, who was in her 30th week of pregnancy, was critically wounded by gunfire in the attack and doctors at Shaare Zedek Hospital in Jerusalem were forced to deliver her baby.
Initially said to be in a "stable" condition, the hospital said Monday the baby's condition worsened and he was now attached to a ventilator and was undergoing treatment in the neo-natal intensive care unit.
Late Sunday, doctors said the mother was "fighting for her life" and underwent surgery for upper body wounds. She remains in serious condition on Monday morning, though her condition had stabilized.
Professor Yonatan HaLevy, Shaare Zedek medical director, cautioned that both the mother and child "have a long way to go before they are out of danger."
The 22-year-old husband was wounded in the leg by gunfire and underwent surgery during the night. Doctors in Hadassah Ein Kerem Hospital on Monday morning report he remains in light-to-moderate/stable condition. The young couple was married about eight months ago and they live in Elon Moreh.
According to the preliminary investigation into the attack, the terrorists fired from a vehicle, directing the gunfire at the hitchhiking post outside Ofra, on Route 60. IDF soldiers present opened fire and believe they hit the terrorist's vehicle, which fled the scene. The manhunt for the terrorist continues and Prime Minister Binyamin Netanyahu vowed the IDF and security agencies will not rest until the responsible parties are brought to justice.
TEHILLIM NAMES OF TERROR VICTIMS:
תינוק בן שירה יעל
שירה יעל בת ליאורה שרה
עמיחי ישי בן פיגה גיטל גלילה
Video below shows the moment the shots were fired:
JOIN THE THOUSANDS: YWN Is Now On WhatsApp – Signup To Be Notified Of Breaking News
(YWN Israel Desk – Jerusalem)