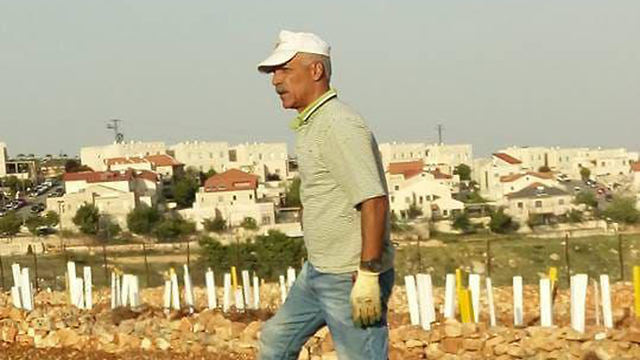 The Palestinian farmer working the field next to Netiv HaAvot in Gush Etzion is learned to be none other than Rizq Salah, the terrorist who was convicted or murdering IDF Soldier Guy Friedman HY"D in 1990, using an explosive device. While the Civil Admiration a number of months ago issued an order closing the field to everyone, that order has since expired and Salah works the field.
The Yediot Achronot report quotes resident Orit Noy expressing "alarm" over learning the identity of the farmer.
Despite they alarm, it appears Salah has proven ownership of the land in question, and therefore, he is not breaking the law. However, the experts in the Regavim organization insist the papers he presented to not prove his ownership as claimed.
Director of Regavim Yishai Hamo is quoted saying, "Salah is a terrorist and a dangerous convicted murderer. Giving him permit to work a short distance away from residents' homes is simply inconceivable. This is an outrage."
Paratrooper Guy Friedman was patrolling the Bet Lechem area with his fellow soldiers when bombs were detonated against them, bombs that were set in place by Salah. Friedman was very seriously wounded and died later of his massive injuries. Salah was sent to life in prison but released in a prisoner exchange deal in 2013.
(YWN Israel Desk – Jerusalem)