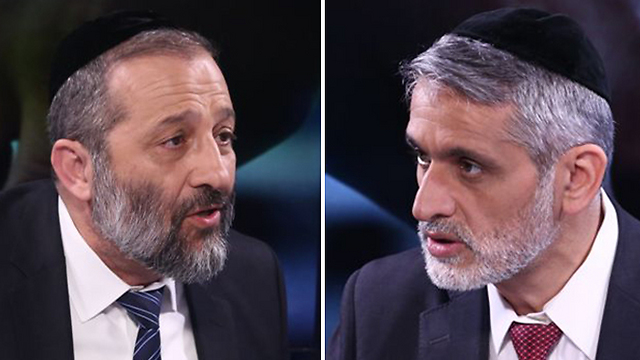 Yachad party leader Eli Yishai, who last week announced he is withdrawing from the election race, called on supporters to vote for Yahadut Hatorah.
Speaking with Kol Berama Radio after announcing he is withdrawing from the election race, he explained that the Yachad party is instructing his supporters to vote for the ashkenazi chareidi party – Yahadut Hatorah.
Yishai added that the talks began with Meir Porush, who spoke with Moshe Gafne and Yaakov Litzman, and it took over ten days until they weighed the matter.
"Aryeh Deri tried to prevent any agreement between us. In every interview we become involved with Deri and I am fed up with this. Hatred and persecution are an obsession. He made a tremendous effort to sabotage the peace between us. I'm very sorry regarding his conduct. It is incomprehensible to anyone," stated Yishai.
He continued, "The move with Yahadut Hatorah was in order. Yachad's one hundred thousand backers are not enough to pass the threshold. I consulted with the Rosh Yeshiva, HaGaon HaRav Meir Mazuz Shlita. We sat and examined it and decided that the best thing was to go with Yahadut Hatorah.
"According to the agreement, there will be no joint headquarters. Seven work days remain [ahead of elections]. If they need us, I will recruit all our campaign heads as we can bring at least an additional 70,000 votes to Yahadut Hatorah.
"The move is a process of no choice, and the power of Rabbi Mazuz will lead sephardim from the moshavim to vote for Yahadut Hatorah, because this way they also point to the Yachad movement, and I will put ballot slips for gimmel in the ballot box for my entire life, I have adhered to Daas Torah.
"We did everything possible to achieve peace with Shas. The Rosh Yeshiva, Rav Mazuz, even agreed to give up the fifth slot. The claim that Moshe Arbel is representative of Yachad is an attempt to harm Maran the Rosh Yeshiva. There is no connection between Arbel and Yachad. It is nothing but nonsense from the beis medrash of Aryeh Deri.
"Today, Deri is losing votes for Shas. Rav Ba'adani announced on Kol Berama that he wants Eli Yishai back, but Deri did not. He does as he pleases. I look to determine what is good for Am Yisrael, not what is good for me personally. Deri is interested in maintaining a relationship with the Yahadut Hatorah. He has a problem with the indictment against him. He has little to threaten Yahadut Hatorah with.
Meanwhile, speaking with Betzalel Kahan of Kol Chai Radio on Sunday morning, Yahadut Hatorah MK Uri Maklev explained when asked that Shas party chairman, Minister Aryeh Deri, was indeed apprised of ongoing talks between his party and Eli Yishai. Maklev stated that every detail was not spelled out for Deri, but he was aware talks were taking place, which were to the advantage of both chareidi parties.
Maklev explained that the both Shas and his party did not want to see votes being trashed and it was clear that if Yachad remained in the race, tens of thousands of votes would have been discarded.
Maklev added talks with HaGaon HaRav Meir Mazuz Shlita, Rosh Yeshivat Kisei Rachamim were "not difficult" and "there were no big demands".
When asked if there was a promise that Yishai would serve as a cabinet minister, Maklev responded "no".
(YWN Israel Desk – Jerusalem)