President Vladimir Putin told Israel's visiting prime minister on Thursday that the Russian military helped locate the remains of an Israeli soldier missing since 1982 with Syrian assistance, while Damascus denied any knowledge of the matter.
The recovery of Zachary Baumel's remains closed a famous case that has plagued Israel for nearly four decades, but Israeli officials have declined to elaborate on how the return was arranged or where the remains were found.
The Israeli spokesman who announced it on Wednesday only said that "an opportunity arose to locate the body" through an unnamed country.
Baumel went missing in a 1982 battle with Syrian forces in southern Lebanon along with five other Israeli soldiers. Several years later, two of the missing soldiers were returned alive to Israel in prisoner exchanges with Syria, but the fate of the other three had remained unknown.
Baumel and two other soldiers – Zvi Feldman and Yehuda Katz – were generally believed to have been killed in the battle, though there was also speculation and reports that they had been captured by the Syrian military in Sultan Yacoub and brought to Damascus.
As part of Operation Bittersweet Song (זמר נוגה), several bodies were brought to Israel and taken to the Abu Kabir Forensic Institute where they had hoped to discover that these were the three missing soldiers, who may have been buried together.
Medical examiners concluded that none of them were Feldman or Katz. A Channel 13 report said one body had yet to be ruled out as belonging to one of the two Israeli soldiers.
[REMARKABLE: Allusion to Recovering Body of Zechariah Baumel HY"D Found in Navi Melachim II]
Speaking on a visit to Moscow Thursday, Israeli Prime Minister Benjamin Netanyahu thanked Russia for its assistance in finding the remains, and Putin acknowledged that Russia had worked to retrieve them.
"Our military together with Syrian partners established the place of his burial," Putin said at the start of the meeting. "We are very pleased that at home they can give him the necessary military honors."
Syria, however, released a statement Thursday denying any knowledge of the remains.
"We have no information on the entire matter of the remains or whether any such remains exist," the statement published on state-run news agency SANA said. It said Israel's recovery of the remains is new evidence that confirms cooperation between "terrorist" groups in Syria and Israel's Mossad spy agency.
Netanyahu told Putin: "They [the Baumel family] were moved in a way that I cannot describe to you Mr. President. They were so moved, first of all by the return of their son and brother. The father has already passed on. The mother will be 90 soon; it was very emotional. The sister, the brother and their children came to see me and as I told them of your decision and about the fact that Russian soldiers took actions, sometimes at personal risk, they were open-mouthed and asked me to convey their deepest gratitude which is shared by all Israelis."
Public involvement in the return of the remains to Israel would be embarrassing for the Syrian government, which is technically at war with Israel.
Baumel's burial ceremony, held at Mount Herzl in Jerusalem, Israel's national cemetery, drew thousands of Israelis Thursday. Fresh off the plane from Moscow, Netanyahu attended and addressed the crowd.
"I felt a shudder when I was told that Zechariah will be with us again," he said. "We will be able to pay our last respects. We waited 37 years for this moment."
Cases of missing soldiers have a powerful emotional and political resonance in Israel, where military service is compulsory for most Jewish men. Netanyahu lauded the repatriation of Baumel's remains as an "expression of mutual responsibility and feeling of unity" that he said epitomizes Israel.
The trip to Moscow, made at Netanyahu's request, came a week after he traveled to Washington and met with U.S. President Donald Trump at the White House. Netanyahu also hosted Brazilian President Jair Bolsonaro in Jerusalem earlier this week.
Putin's foreign affairs adviser Yuri Ushakov told journalists the two leaders discussed events in Syria but that Netanyahu did not present any concrete plan for regulating the conflict and tensions there.
Israel and Russia have a military hotline to coordinate air force operations over Syria, where Russia supports President Bashar Assad's forces and Israel frequently strikes targets linked to Iran and the Lebanese Hezbollah.
בני גנץ, תתבייש על כך שהאשמת את צה״ל ואותי בשיקולים פוליטיים בהשבתו של חיילנו זכריה באומל ז״ל לקבר ישראל. אל תתנצל בפניי, תתנצל בפני עם ישראל.

— Benjamin Netanyahu (@netanyahu) April 4, 2019
As we bring First Sergeant Zachary Baumel ז"ל to rest, the State of #Israel is fulfilling its oath to our soldiers: to bring home those who did not return from battle. Thank you to the @IDF and the Israeli intelligence community who led this sacred mission pic.twitter.com/2oG0wUDWWb

— Reuven Rivlin (@PresidentRuvi) April 4, 2019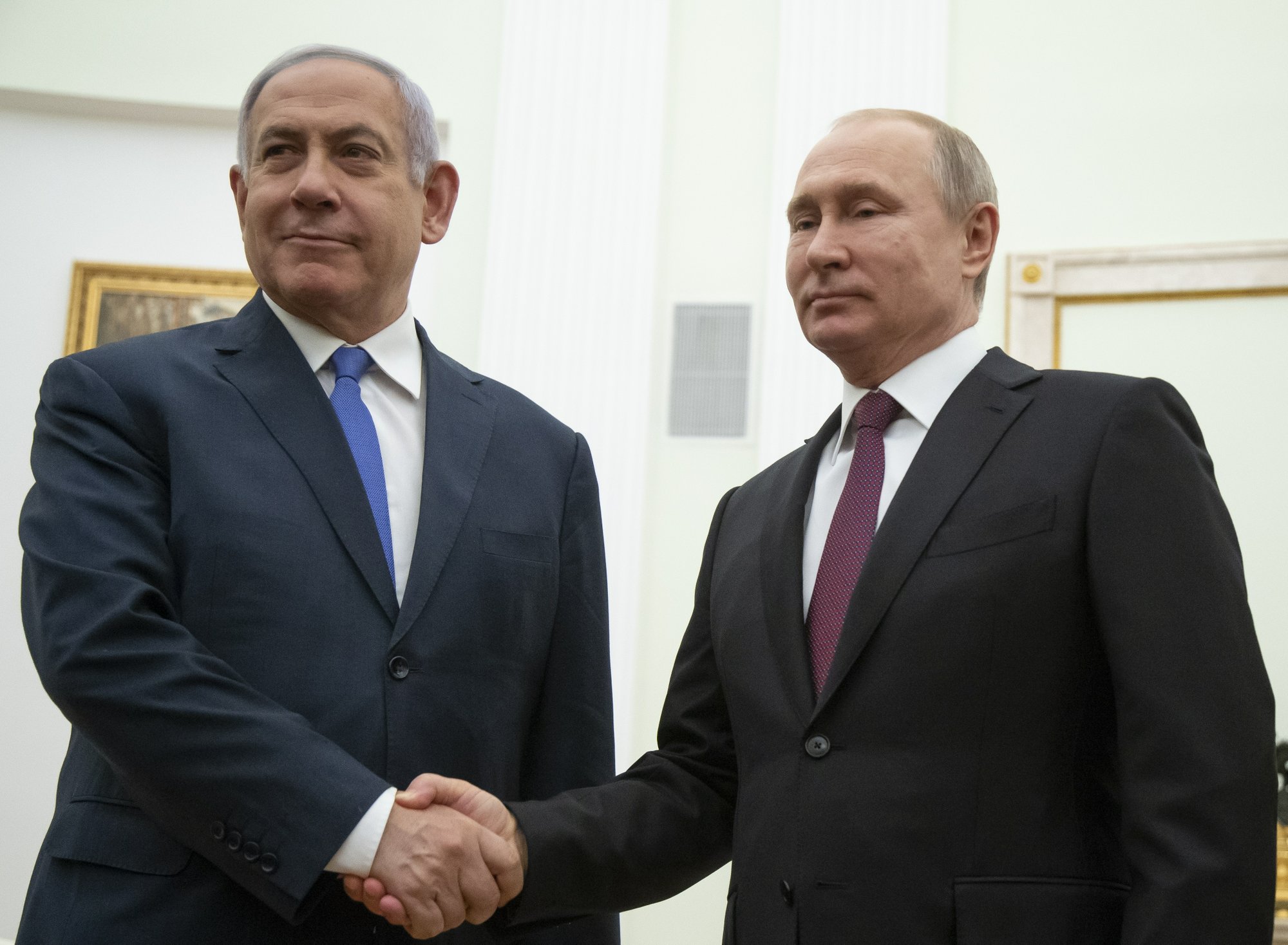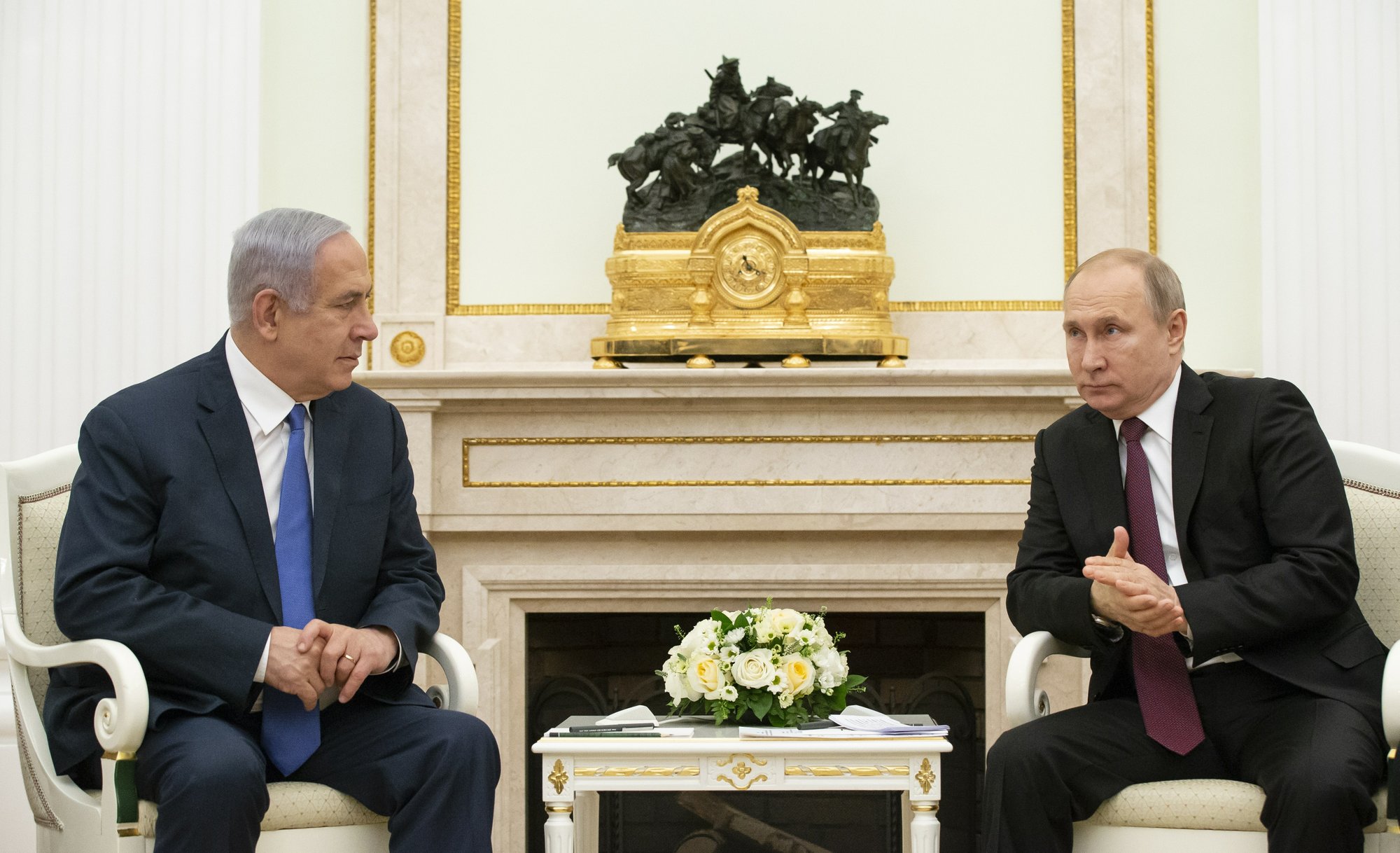 (AP / YWN Israel Desk – Jerusalem)