Benjamin Netanyahu appeared to be headed toward a historic fifth term as Israel's prime minister on Wednesday, with close-to-complete unofficial election results giving his right-wing Likud and other nationalist and religious parties a solid majority in Knesset.
The tight race was seen as a referendum on the long-serving leader. It will give Netanyahu an important boost as he braces for the likelihood of criminal charges in a series of corruption scandals.
The near-final results showed the Blue & White party, led by ex-military chief Benny Gantz, deadlocked with Likud at 35 seats. But most of its support seems to have come at the expense of the venerable Labor and leftist Meretz parties, who both earned historic lows in Tuesday's election, thus leaving them with no path to form a left-wing coalition.
[WATCH: Trump Calls Netanyahu To Congratulate Him, Tweets Photo of Trump Flags At Likud Victory]
With 97.4% of the vote counted, Likud and its traditional political allies had a solid 65-55 majority. There are still votes from soldiers that have yet to be counted, which could make the difference for parties which at present do not have a sufficient number of votes to cross the minimum threshold to earn Knesset seats.
Likud 35
Blue and White 35
Shas 8
Yahadut Hatorah 8
Labor 6
Hadash-Ta'al 6
Yisrael Beitenu 5
United Right-Wing 5
Meretz 4
Kulanu 4
Ra'am-Balad 4
At present, the following notables did not get into Knesset:
• New Right (headed by current Education Minister Naftali Bennet and Justice Minister Ayelet Shaked)
• Zehut (Moshe Feiglin)
• Gesher (Orly Abekasis-Levi)
Two of Netanyahu's potential allies, former Defense Minister Avigdor Lieberman and Finance Minister Moshe Kahlon, have yet to formally confirm they would sit with his new coalition and could emerge as wildcards. In any case, the country now faces what could be weeks of political negotiations over the composition of a ruling coalition.
Addressing a jubilant gathering of supporters early Wednesday, Netanyahu praised them for an "almost inconceivable achievement."
In a speech repeatedly interrupted by cheering supporters, Netanyahu said: "It's a night of tremendous victory." "I was very moved that the nation of Israel once again entrusted me for the fifth time, and with an even greater trust."
He said he had already begun talking to fellow right wing and religious parties about forming a new coalition.
"I want to make it clear, it will be a right-wing government, but I intend to be the prime minister of all Israeli citizens, right or left, Jews and non-Jews alike," he said.
Overnight, with fewer of the votes counted, Blue and White still appeared to be ahead by one seat and Gantz projected optimism that he would be tasked with building a coalition. But by morning, he seemed to have realized his dream of becoming prime minister was lost, even if he didn't formally concede defeat.
"Though the skies appear gloomy, nothing is final. There could be changes and some political options could open up," he wrote to his supporters. "Our voters asked for hope and we gave it to them. They wanted a different way and we outlined it."
**See earlier updates, videos & photos from throughout Election Day in extended article**
1:05AM IL: Two Israeli TV stations have changed their forecasts for final election results and are now projecting a narrow victory by Prime Minister Benjamin Netanyahu's Likud party.
Channels 12 and 13 are projecting Likud will capture 35 seats in the 120-seat parliament, compared to 34 for Benny Gantz's centrist Blue and White party. Earlier, Channel 13 had projected the parties deadlocked at 36 seats apiece, while Channel 12 gave Gantz a solid 37-33 lead. Both exit polls now indicate that Shas would be the third-largest party with eight seats, followed by Yahadut Hatorah with 7.
Both stations early Wednesday also showed Likud and its religious-nationalist bloc of allies controlling a majority in the 120-seat parliament. Their updated projects mirrored partial results, which gave Likud a slight lead with about a quarter of votes counted.
12:30AM IL:  Addressing a raucous crowd of supporters. Benny Gantz said Tuesday's vote was a "historic vote" for Israel and urged his rival, Prime Minister Benjamin Netanyahu, to step aside.
Opinion polls show Gantz's party tied or with a slight lead over Netanyahu's Likud, though the polls appear to give Netanyahu a better chance of cobbling together a parliamentary majority with his hard-line ideological allies.
Gantz says that as leader of the largest party, he should be chosen by Israel's president to form the next government.
"Elections have losers and elections have winners. And we are the winners," he said.
10:48PM IL: Both Prime Minister Benjamin Netanyahu and the leaders of the rival Blue and White party, former military chief Benny Gantz and centrist politician Yair Lapid, have declared victory in Israel's elections as murky exit-poll predictions rolled in.
Netanyahu announced: "A right-wing bloc led by the Likud party won a clear victory. I thank the citizens of Israel for the trust."
Gantz and Lapid also declared: "We won! The Israeli public has had their say!"
They added that "These elections have a clear winner and a clear loser," saying, "the president can see the picture and should call on the winner to form the next government. There is no other option!"
Both camps vowed they would call on allies to help them form a governing coalition.
The following exit poll numbers are preliminary information, and the news agencies show very conflicting numbers. 
YWN NOTES: Real numbers will likely not be available until early morning Israel time.
NEWS 12: Blue & White 37 seats, Likud 33.
It appears that both the right and left blocs are projected to have around 60 seats.
CHANNEL 13: Blue & White 36, Likud 36, Labor 7, Shas 7, Chadas Taal 7, Yahadut hatorah 7, Joint right 4, New right 4, Meretz 4, Kulanu 4, Yisrael Beiteinu 4. Zehut, Beled do not make it.
KAN NEWS: Blue & White 37, Likud 36, Labor 8, Yahadut hatorah 7, Shas 7, Chadash taal 6, Joint Right 5, Kulanu 5, Meretz 5, Yisrael Beiteinu 4. Zehut, Beled do not make it.
iNews24: Blue & White 33, Likud 27, Labor 8
Ynet: Blue & White 33, Likud 27, Labor 9, Shas 7, Chadash Taal 7, New Right 6, Zehut 5, Kulanu 5, Yahadut Hatorah 5, Joint Right 4, Meretz 4, Yisrael Beiteinu 4, Ram Balaad 4.
8:00PM IL: Voter Turnout Down Slightly Compared to 2015 Election
According to elections officials at 6:00 PM, voter turnout nationwide stood at 52%, over 2.5% lower than in the 2015 Knesset elections. The polls in hospitals and prisons closed at 8:00 PM and the polls nationwide will be shutting at 10:00 PM, in less than two hours.
The race appears to be close and according to reports, with growing concerns among Arab MKs because as of 7:45 PM, voter turnout in that community has not passed the 30% mark.
It appears that even if Likud emerges the largest party, and this is questionable, Prime Minister Binyamin Netanyahu, who would be entering his fourth consecutive term, will have to use all of his political clout to cut a deal with the smaller right-wing parties that he will need to build a coalition majority. Interestingly, analysts add that if Likud receives over 30 seats, it will also send a powerful message to Attorney General Avichai Mandelblit that despite the reports of imminent criminal indictments against Netanyahu, the nation continues to support him and stand behind him.
Alternatively, if Benny Gantz and his Blue and White party receive the majority of the votes, and the presidential mandate to form a coalition government, it appears unlikely that Gantz will find the 61 seats, the minimum to announce he succeeded in building a coalition government. It will be close in any event, as the left-wing and centrist parties including Meretz and Labor have been working extremely hard over the past hours to get voters to get out and vote.
There are no statistics at present, but voter turnout in the chareidi sector is usually very high and it is believed this election will not be an exception. The followers of Peleg Yerushalmi have announced they are not going to vote in the election, accusing Yahadut Hatorah of selling out Yiddishkeit and therefore, they have decided to boycott the election. According to estimates, this will impact 30,000 to 40,000 eligible chareidi voters.
7:30PM IL: Extremely Low Turnout Among Arab Voters 
A prominent Israeli pollster says that Israel has never seen such a decline in Arab turnout, calling it "the biggest drama" facing the national election.
Camil Fuchs told Israel's Chanel 13 TV that exit polls revealed startling low turnout throughout the day, possibly under 30%.
Prominent Arab politicians took to social media to demand their constituents push back against ballot boycott calls that put their parties at risk of dropping below the parliamentary threshold.
Veteran lawmaker Ahmad Tibi called the low turnout "a real danger" to his party and the other Arab factions.
It is explained that the Arab sector feels betrayed by their representatives, explaining since US President Donald Trump has taken office, their plight has been harmed significantly with the US Embassy moving to Jerusalem, and the US viewing the Golan Heights as part of the State of Israel, no longer occupied as has been the case since 1967.
Arab community and PA (Palestinian Authority) leaders feel that the White House has turned their backs on the PA, and now, Prime Minister Binyamin Netanyahu speaking about annexing Yehuda and Shomron.
6:30PM IL:
Just two hours before the polls close in Israel, Hagaon HaRav Boruch Mordechai Ezrachi, the Rosh Yeshiva of Yeshiva Ateres Yisroel released a dramatic video calling on the Chareidi community to go vote.
"Friends, we need Tefillos! Recite them while on the way to the polls!
"Run!
"Members of Knesset tell me that the Matzav is dangerous!
"There is a Chiyuv to make a Kiddush hashem!
"We need 10 seats in the Knesset!
"Go vote!
Vote Gimmel! Gimmel! Gimmel!"
Update 4:30PM IL:
Israel's elections committee has banned hidden cameras at polling stations following an Arab party's complaints that it observed Prime Minister Benjamin Netanyahu's Likud party deploying staffers who attempted to secretly surveil predominantly-Arab polling stations.
Israeli media reported that Likud dispatched 1,200 observers in Arab polls. The Israeli daily Haaretz published videos showing activists caught with cameras by police, with one confessing Likud had sent him.
Police said they were working to "maintain public order" after "a number of suspected irregularities" in northern polls.
Arab parties lambasted the cameras as a ploy to depress their constituents' turnout.
The Likud party declined to comment, but when a reporter asked Netanyahu about the claims as he cast his ballot, he responded, "There should be cameras everywhere. Not hidden. It's important to ensure a legitimate vote."
Update 4:00PM IL:
Prime Minister Benjamin Netanyahu filmed himself at the beach in Netanya on Tuesday and urged people to go vote or "wake up tomorrow to a leftist government" led by his chief challenger Benny Gantz.
He says such a scenario is backed by a "secret deal" with Arab parties, which he often brands as his political foe.
Other politicians have urged Israelis to go vote, as voter turnout was lower than previous elections.
The current election regulations in Israel bar television and radio campaigning on election day, but not social media.
נתונים שמגיעים אלינו עכשיו מצביעים על פער של 4 מנדטים לטובת לפיד וגנץ. מצביעים רבים מהליכוד טרם הגיעו לקלפי. השעה מאוחרת אבל לא מאוחרת מדיי. אני מבקש מכולם להתגייס, להביא משפחה וחברים לקלפי. יש עוד שעתיים. אנחנו יכולים למנוע ממשלת שמאל. אנחנו חייבים למנוע ממשלת שמאל!

— Benjamin Netanyahu (@netanyahu) April 9, 2019
Benny Gantz posted video showing him stopping on Highway 4 to help a motorcycle driver who had been injured in a car accident:
UPDATES BELOW FROM 11:00AM IL:
The top of the Associated Press international newswire shows this photo of the Viznitzer Rebbe voting in Israel's election.
The polls opened on schedule in most polling stations around the country, accompanied by the expected accusations of missing ballot slips and election law infractions at some polling stations. For example, early in the day, there were reports that the Likud ballot slips had been removed from 26 polling stations in Petach Tikvah. In addition, the New Right party filed a complaint against the United Right-Wing for illegal electioneering on Election Day. The left-wing Meretz party filed a complaint against the Shas party for illegal electioneering as well.
Walla News reported early on Election Day that the Likud party has placed hidden cameras to monitor voting in the Arab sector in both the Galil and the Negev. This is in addition to Likud poll watchers being stationed in Haifa, Nazareth and Tamra, armed with the hidden cameras to document possible election fraud. According to officials in the Likud campaign, persons were enlisted to begin the day at 6:45 AM to assist in monitoring polls on behalf of Likud, and they are being paid NIS 1,150 to remain until midnight.
At about 10:00 AM, the voting information hotline numbers, *3857 and *3859, were unreachable due to the volume of calls. They simply remain busy and one cannot reach an operator.
The weather across Israel is sunny and pleasant, and some feel this will result in fewer voters as many will opt to visit the nation's parks and recreational areas instead of voting, while others feel the pleasant weather will lead to increased voter turnout.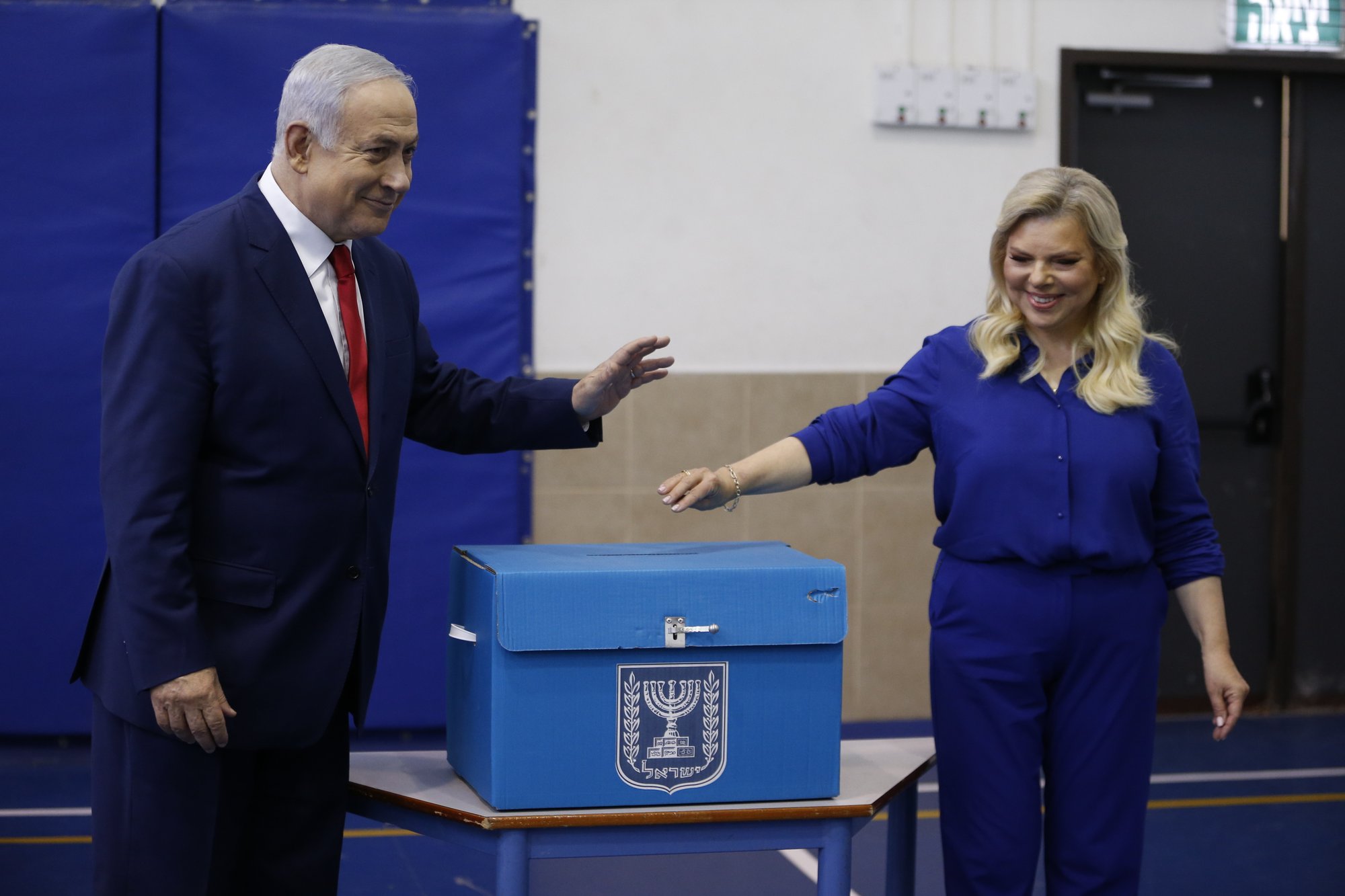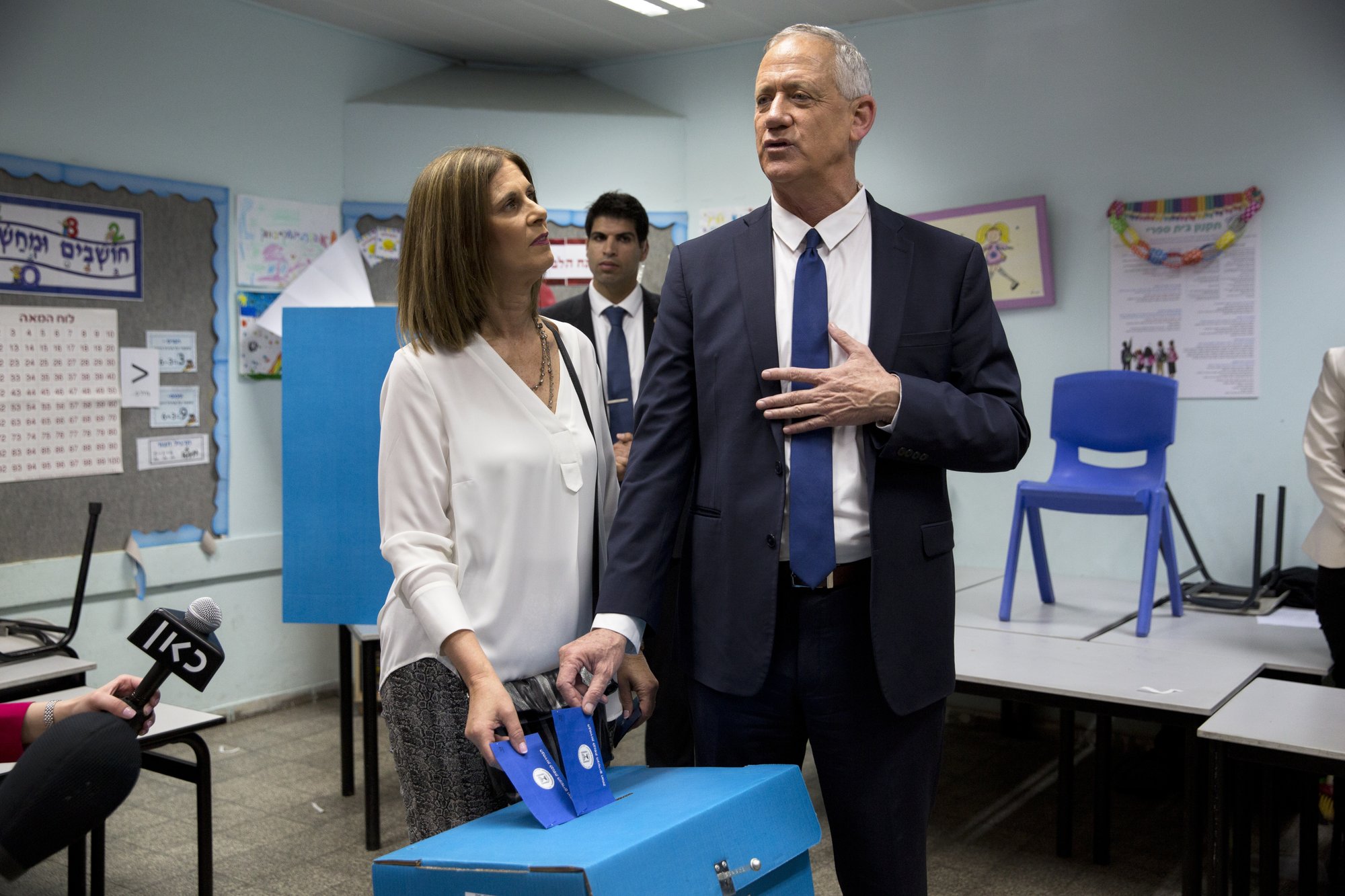 As reported by YWN, Prime Minister Binyamin and Mrs. Sara Netanyahu visited the Kosel on Monday evening to daven, and Mr. Netanyahu placed a kvitel "for the security of Am Yisrael and my beloved family".
Benny Gantz voted in his home community of Rosh Ha'ayin, and then traveled to the kevarim of his parents in Kfar Achim in southern Israel on Election Day morning to be mispallel for his success.
כפר אחים. המקום בו המסע הישראלי שלי התחיל. pic.twitter.com/sw0eEcWMn5

— בני גנץ – Benny Gantz (@gantzbe) April 9, 2019
According to Israel's Central Bureau of Statistics, voter turnout in the last Knesset election, in 2015, was 71.8%. It is also pointed out that of the number of eligible voters in this election, close to 12% are living abroad so voter turnout in this election for 21st Knesset cannot exceed 88%.
That said, officials at Ben-Gurion Airport report that many Israelis have opted to ignore Election Day and head on a flight abroad for a vacation, while others have returned home to vote. Over 30,000 travelers are expected to pass through the airport on Election Day. There are no official statistics being reported as to the numbers of eligible voters leaving Israel and returning to vote.