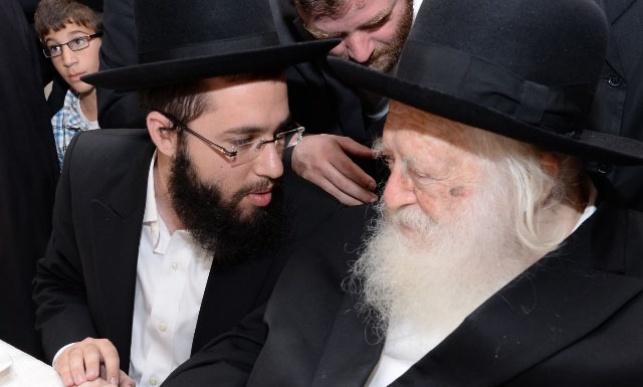 Yanki Kanievsky, a grandson of HaGaon HaRav Chaim Kanievsky Shlita met on Tuesday afternoon with the chairman of the Yisrael Beitenu party, MK Avigdor Lieberman, in an effort to persuade him to compromise and agree to enter into a coalition with the chareidi parties and thereby avoiding new elections. The meeting took place in Yisrael Beitenu headquarters located on Yirmiyahu Street in Jerusalem.
According to sources in Degel Hatorah, Yanki brought a letter from Rav Kanievsky, but according to a Kikar Shabbos report, Yanki denies the existence of such a letter.
Also present for the meeting was Avi Abuchatzeira, a member of the chareidi community who is close to Lieberman and a powerful player in Lieberman's party who now serves as an advisor to Jerusalem Mayor Moshe Leon.
Lieberman's party has five seats, which are critical in order for Prime Minister Binyamin Netanyahu to form a coalition government. The deadlock surrounding talks surrounds Lieberman's refusal to permit any change to the draft law, despite the fact the chareidim have agreed to compromise. Lieberman maintains that during his election campaign he announced that he would not agree to any changes to the bill, and he is unwilling to change his position, even if it means heading to new elections.
[ONE DAY LEFT: Netanyahu Continues Efforts to Prevent Elections; Kushner And Greenblatt Called To Help, Lieberman Refuses To Budge]
(YWN Israel Desk – Jerusalem)