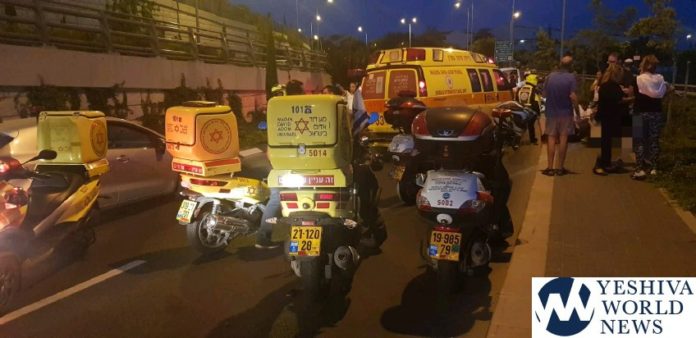 A motorized scooter driver was killed as a result of an accident with a pedestrian in Jerusalem's Kiryat Menachem neighborhood. The fatal incident occurred on Monday evening at 7:58PM on Derech Chaim Kulitz. MDA paramedics treated Shmuel Kozovsky Z"L, a Breslov Chossid, performing CPR and eventually pronouncing him dead. A youth, who was on a bicycle, was moderately injured while a 49-year-old pedestrian sustained light injury. They were transported to Hadassah Ein Kerem Hospital.
MDA EMTs Yishai Levi and Eli Farchi explained when they arrived on the scene, they saw the scooter and three persons on the sidewalk nearby. A 16-year-old suffered multisystem trauma, unconscious and in cardiac arrest. CPR and advanced life support were begun. However, he was later pronounced dead on the scene.
The other victims were transported in stable condition to Hadassah Ein Kerem Hospital.
The niftar was a member of the Breslov Shuvu Banim tzibur. He was killed on the same day he passed his road test.
His levaya began at 1:00PM on Tuesday after his body was released a bit earlier in the day by the Abu Kabir Forensic Institute following the intervention of ZAKA's Rav Bentzion Oaring. The hespedim were held at the Sanhedria Funeral Home and kvura in Har HaZeisim.
(YWN Israel Desk – Jerusalem)