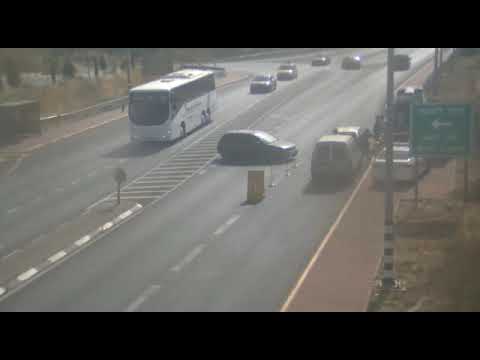 A driver who was angry at the decision to impound his vehicle, endangered motorists and tried to harm a public servant and policemen, as documented in the accompanying video.
About a week ago, in a combined traffic enforcement operation by the traffic police and the Transportation Ministry at the Karnei Shomron Junction, a Palestinian vehicle arrived at the checkpoint.
During the inspection it was decided by an inspector to remove the vehicle from the road in the light of severe defects. When the driver was informed, he got into the vehicle, and he made a U-turn in a prohibited place while endangering vehicles traveling on the road. There were no injuries as a result of his actions.
A Palestinian driver, a resident of the PA (Palestinian Authority) Kalkilye area, was detained for questioning for endangering a public servant and police, and his detention was extended several time.
At the beginning of the week, the material in his case was transferred to the military prosecution in the Salim military court for processing an indictment.
(YWN Israel Desk – Jerusalem)