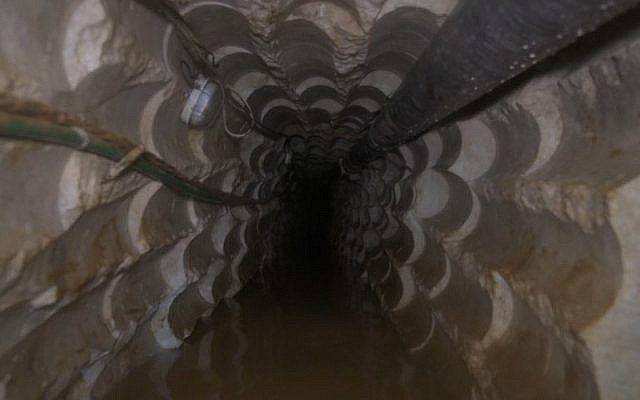 It was revealed over the weekend that former IDF Galil Division Commander Brigadier-General Rafi Milo entered a large Hezbollah tunnel with his troops, taking them to Lebanon without permission. This occurred during Operation Northern Defense, which began in December 2018.
The report released by Yediot Achronot over the weekend led to a storm in the military establishment as Milo, who until last week was the Galil Division Commander, endangered himself and a number of his soldiers, entering a tunnel until reaching Lebanon without reporting what he was doing or receiving advanced permission to do so.
Milo, who is viewed as an exemplary officer, served as commander of the Galil Division, the Red Division, Shayetet 13 naval commandos, Baram Division, and other elite command posts.
The tunnel in question was discovered in the beginning of January 2019, and Milo, who was the Galil Division commander, decided he wanted to learn more about the tunnels from close up, and during the late night hours, with a number of his troops, they entered and continued until they were on the Lebanese side of the tunnel. He did not report what he was about to do, and he did not receive prior permission. After the fact, the military viewed his actions as endangering himself and his soldiers without authorization and in contradiction to standing orders pertaining to the safety of troops. After they returned, Milo did report his actions to Northern Commander Major-General Amir Baram, who updated IDF Chief of Staff Lt.-General Aviv Kochavi.
According to the Yediot report, Baram summoned Milo to report on his actions as a probe was launched by Baram, during which time Milo admitted he erred in his judgement, accepting full responsibility. "I am a senior combat commander and I had to enter to get a look at the tunnel to the end".
Milo was then summoned by the IDF Chief, who was angered over his behavior, and decided to delay his promotion to major-general for a year. It is explained the punishment was light considering what took place, with the explanation Kochavi did not wish to damage the career of an exemplary combat commander.
As was decided prior to the incident, Milo was appointed to head the IDF Command College as his next assignment.
(YWN Israel Desk – Jerusalem)