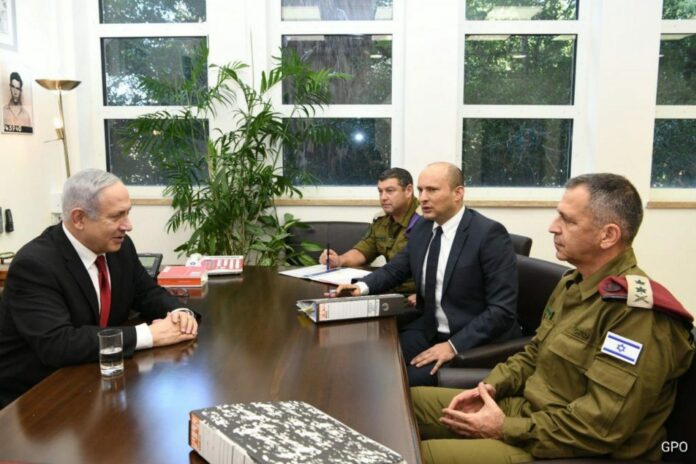 Defense Minister Naftali Bennet, who assumed his high-level post on the first day of Islamic Jihad rocket fire into Israel earlier this week, released a statement regarding what Israel is now calling 'Operation Black Belt'.
It is reported that Bennet was busy during the night (Wednesday to Thursday) conducting security briefings with senior commanders and officials in the defense establishment.
Bennet reports that 20 terrorists were eliminated in the 48-hour operation.
He explains, "At this time, it is not over. Only the actions in the field will determine the rules of the new game. The IDF will operate fully, without any restrictions. A terrorist who tries to harm Israeli citizens will no longer sleep peacefully, not in his home, not in his bed, and not in any hiding place.
"I am proud of the IDF combatants and their commanders as well as all the security forces, who remain vigilant at this time. I am proud of the Israeli public and the residents of the south and Gaza envelope communities who continue to exude calm and inner strength that strengthens us, the decision-makers.
"I urge the public to remain attentive in the coming hours.
"I would like to express my appreciation to the Prime Minister and my fellow cabinet ministers who made the correct decision – to rethink the operational initiative.
"I thank the Prime Minister, the Chief of Staff and the Director of the Shin Bet for effective cooperation from the moment I took office, immediately after the counter-terrorism operation began. That is how it should be."
The IDF operated decisively and precisely against Islamic Jihad in Gaza until quiet returned to the skies above Israel.

Quiet will be met with quiet.

We will continue to protect the people of Israel and are prepared for any threat on all fronts.

— Israel Defense Forces (@IDF) November 14, 2019
(YWN Israel Desk – Jerusalem)