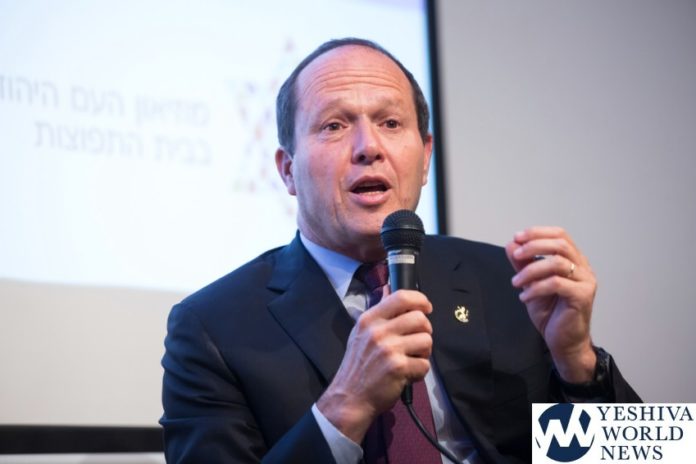 A poll surprising some has been released, showing that former Jerusalem Mayor Nir Barkat has gained the title of being Prime Minister Binyamin Netanyahu's successor.
A poll conducted by Masker Institute shows that the announcement of future criminal indictments against Prime Minister Binyamin Netanyahu has not harmed him electorally. If primaries are held for the party leadership position, Netanyahu will receive 71.6% of the vote from registered party voters. Gideon Saar, who hopes to unseat the prime minister, only earned 16.3% of the vote.
If there are additional candidates running for the spot, Nir Barkat receives 6.0%, Yuli Edelstein 2.5%, Yisrael Katz 1.4%, Gilad Erdan 1.2% and in last place, Yoav Galant with 1%.
Who would you vote for among the following:
• 69.1% Netanyahu
• 21% Saar
• 6.7% Barkat
• 3.2% Edelstein
If Netanyahu decides to leave politics or has to step down for one reason or another and cannot run for the party's leadership.
Netanyahu supporters announce they will shift their support to Nir Barkat, who would be leading in such a case with 41.7%. He is followed by Gideon Saar with 24.7% and Yuli Edelstein with 8.6%.
• 59.1% of respondents feel there is no need for early elections
• 31.2% feel there is a need for a third round of elections
• 9.7% feel there is room to weigh such an option.
Do you feel the Likud party is a preferred option for you in the upcoming election?
• 63.7% Likud is my only option
• 26.6% Likud is their preferred option
• 7.6% Likud is not a preferred option
• 2.1% Voting Likud is their last option
It is reported the Masker Institute conducted the poll, which was not commissioned. The poll included 1,700 respondents among 21,000 who received the poll on their phones. The margin of error is +/- 4.4%. After screening, not all of the intended recipients received the poll.
(YWN Israel Desk – Jerusalem)