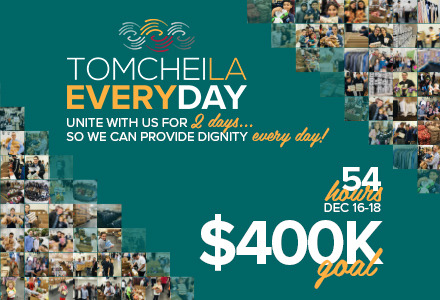 TOMCHEI LA EVERY DAY
Tomchei LA helps thousands of people throughout the year. Their stories are heartbreaking. These are hardworking people – our neighbors, relatives and friends. They cross every demographic of the Jewish population in Los Angeles. They have nowhere else to turn.
These are people you want to help, but they don't want you to know their struggles.
The variety of needs is as diverse as the community we care about. It ranges from jobs, food, financial assistance, clothing, furniture and so much more. Our budget this year is nearly $5,000,000.
Our mission is to show up. It's not just Shabbos anymore. It's Tomchei LA, Every day.
Tomchei LA mobilizes an incredibly dedicated volunteer base, keeping overhead costs to an absolute minimum, but we still need your financial support. We're launching a 54-hour campaign to raise the necessary $400,000 needed to provide all the help we can give.
It's our community, it's our responsibility. We cannot do it without you.