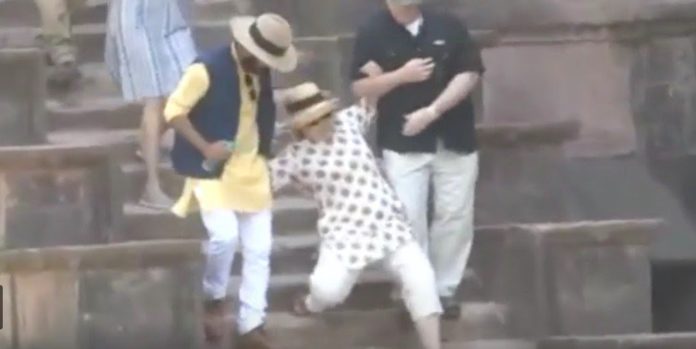 The American Mirror reports Clinton was attempting to descend about 15 stairs at Jahaz Mahal, an abandoned royal palace complex in the ancient city of Mandu, India.
She was holding the arm of an aide.
With Huma Abedin following behind, Clinton slipped about halfway down the descent, nearly tumbling down.
A man walking in front of her jumped to grab her as she reached for him.
Despite both men helping her get to the bottom of the stairs, she slipped again, nearly doing the splits.
Huma stopped to watch as Clinton attempted to regain her balance.
Hillary kicked off her sandals to get to the bottom of the stairs.
Clinton was in the country promoting her book, "What Happened."
This isn't the first time Clinton has had balance issues and required the aid of others to avoid falling.
During the 2016 campaign, Clinton had to leave a 9/11 memorial early and was filmed collapsing on the curb while attempting to enter a van. Secret Service agents kept her from falling to the ground and loaded her into the vehicle.
The incident was blamed on pneumonia, and Clinton was filmed walking out of her daughter Chelsea's apartment in New York City later that day, though she did leave the campaign trail for a few days to recover.
Former President Bill Clinton, in an interview after her collapse, said that Hillary had fainted "on more than one occasion," blaming dehydration for the episodes.
(Nat Golden – YWN)