A Jewish journalist was one of five people killed in an attack at the office of a newspaper in Annapolis, Maryland, police have confirmed.
Among the dead was editorial writer Gerald Fischman, 61, whom the Capital Gazette described as the paper's "conscience and voice".
He was an "old-fashioned journalist," a former editor of the paper said.
Steve Gunn remembered Fischman as "the master of AP style" who "made sure everything was just right."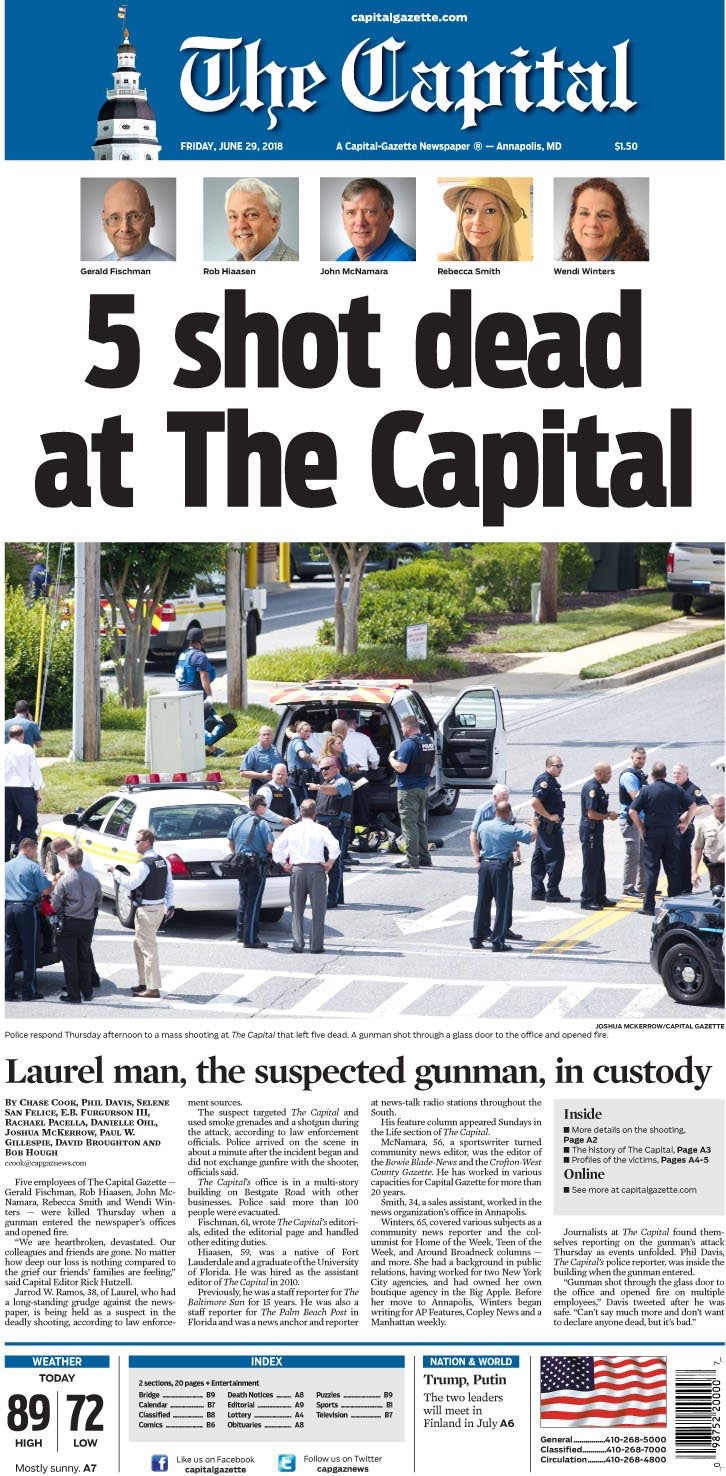 Long-time editor and publisher Tom Marquardt said: "He had ability that, I thought, deserved a higher calling than the Capital. He was a great writer. He was a really smart guy."
Colleagues said Fischman never complained about anything, not even about being the Jew who had to write an editorial about Christmas every year.
He was also described as having a "brilliant mind, wry wit and wicked pen".
Brian Henley, a retired editor, said Mr Fischman had "an encyclopedia knowledge of everything from the philosophy to who knows what".
Local political figures also paid tribute to the journalist, with Annapolis house speaker saying: "He was extraordinarily knowledgeable about the political dynamics of the community.
"He was a bit of a loner, but was very, very intelligent. He was a respected writer and captured, for the most part, the feelings within the community."
The other victims were editor Rob Hiassen, 59, reporter Wendi Winters, 65, sales assistant Rebecca Smith, 34, and John McNamara, 56, a reporter and editor.
First-degree murder charges were filed Friday against a man with a grudge against Maryland's capital newspaper after police said he shot his way into the newsroom, killing four journalists and a staffer and wounding two others.
Jarrod Warren Ramos was swiftly arrested, interrogated and jailed pending a 10:30 a.m. hearing in Annapolis. A court document classifies him as "recalcitrant." Investigators said earlier that he was uncooperative. A spokeswoman for the public defender's office said she had no comment.
Acting Police Chief William Krampf of Anne Arundel County said the gunman "looked for his victims" Thursday in the newsroom of The Capital Gazette in Annapolis. "This person was prepared today to come in, this person was prepared to shoot people," Krampf said.
Ramos, 38, has a well-documented history of harassing the paper's journalists that began years ago after the Gazette reported about his criminal conviction in a harassment case.
The attack began with a shotgun blast that shattered the glass entrance of the open newsroom. Journalists crawled under desks and sought other hiding places, describing agonizing minutes of terror as they heard his footsteps and the repeated blasts of the weapon.
Officers responded in about 60 seconds and arrested him without firing a shot as he too "attempted to conceal himself under a desk," according to his charging documents. They recovered a "long gun firearm" and said he also carried smoke grenades.
Ramos has routinely harassed the newspaper's writers in scores of profanity-laced tweets. One said he'd enjoy seeing the paper stop publishing, but "it would be nicer" to see two journalists "cease breathing." Investigators were reviewing his postings and searching his apartment in Laurel, Maryland, for evidence on what prompted him to take deadly action.
(Yossi Taub – YWN / AP)