A delegation from the radical anti-Zionist Neturei Karta organization met with Iran's Minister of Foreign Affairs, Dr. Javad Zarif, during his during his visit to attend the United Nations General Assembly in New York City. Neturei Karta reports the delegation of 10 was received by the Iranian officials with "great respect".
NK's Yisroel Dovid Weiss used the opportunity to expressed his appreciation for Zarif's "longtime friendship with Jewish people of his country and worldwide". Weiss also expressed his gratitude for Tehran's "protection" of its Jewish minority. While more than 60,000 Jews lived in Iran prior to the Islamic Revolution of 1979 according to the Iranian government, the 2011 census showed the population had dropped to under 9,000.
"This is a true example of the teachings of the late Ayatollah Khomeini, who was very clear in differentiating between Judaism and Zionism. Iran does this naturally, not for advertisement," Weiss said.
He continued to explain how the State of Israel is a "false representation" of the Jewish people. "In a certain way, we can say that Zionism has been doing more harm to Jews over the past decades than it does to the Palestinians. Judaism teaches that leading others to sin is worse than murder. The most recent example of the Zionists leading others to sin is their forced draft law, under which they are attempting to force religious Jews to fight in their wars against other nations, which are forbidden in Judaism, and assimilate into their secular society," Weiss said.
Weiss also lamented Israeli Prime Minister Benjamin Netanyahu's address at the United Nations General Assembly last month, during which he accused the Tehran regime of storing nuclear material for its weapons program, in an apparent violation of the 2015 Iran nuclear deal.
"We are tremendously pained by the ongoing Zionist provocations against Iran. During Netanyahu's speech to the UNGA, in which he spoke sharply against Iran, we held public demonstrations stating that he and his state do not speak in the name of world Jewry."
[VIDEOS: NYC Man Tells Neturei Karta "America Needs Jews Just Like You!"]
Weiss explained what he believes is a difference between Judaism, a religion, and Zionism, a brand of nationalism, and he explained that "authentic Jewry" never accepted Zionism or the existence of the State of Israel. He showed the Iranians a copy of a declaration to the United Nations on July 16, 1947, by Rabbi Yosef Zvi Dushinsky, Chief Rabbi of Palestine, stating: "We furthermore wish to express our definite opposition to a Jewish state in any part of Palestine." Other related documents were also presented.
After Weiss concluded his remarks, the delegation presented Zarif with a gift, as a sign of the group's continuing "friendship" with the Islamic republic.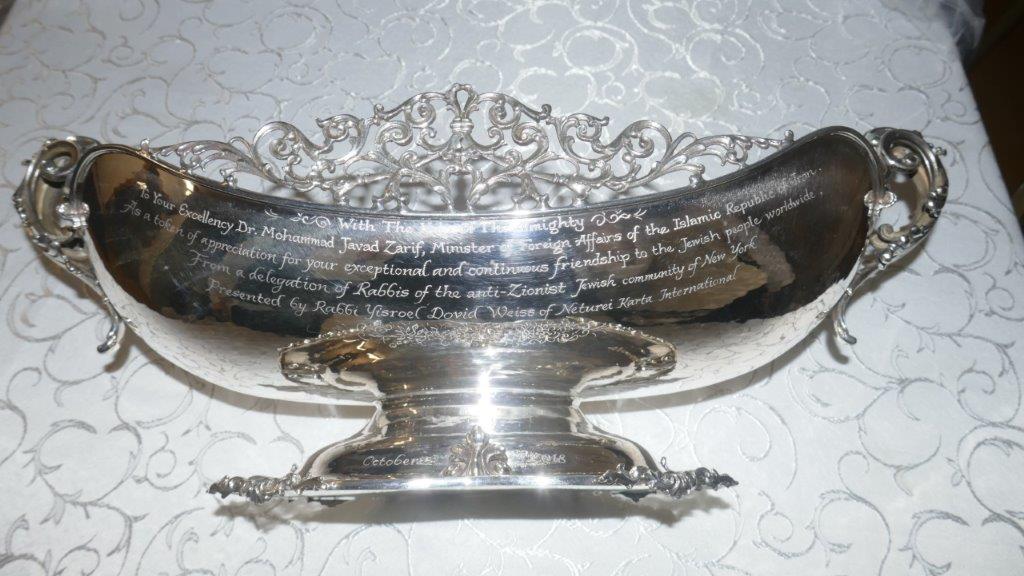 Weiss read the text inscribed on the decorative metal plate:
"With the help of the Almighty.To Your Excellency Dr. Mohammad Javad Zarif, Minister of Foreign Affairs of the Islamic Republic of Iran. As a token of appreciation for your exceptional and continuous friendship to the Jewish people worldwide. From a delegation of Rabbis of the anti-Zionist Jewish community of New York. Presented by Rabbi Yisroel Dovid Weiss of Neturei Karta International, October 5, 2018."
On his part, Foreign Minister Zarif said: "It is an honor for me to continue our long friendship with believers, people who worship no one but G-d, versus those who seek to dominate others. We admire your stance against oppression; we have always been on good terms with the Jewish people. As you are well aware, there are Jewish communities in almost every major city in Iran, and despite Zionist propaganda to induce Jews to leave our country, Iran still has the largest Jewish population in the Middle East outside of the Holy Land. Also, it is well known that Iran grants a representative in parliament for the Jewish citizens, despite the fact that they don't have the required numbers necessary for a parliamentary representative.
"We have nothing but respect for the Jewish people and the Jewish religion.
"We pray that the aberration of Zionism should no longer continue and they should no longer misuse the name of Judaism or the holy books of Judaism. We are aware that Benjamin Netanyahu is misinterpreting the book of Esther in order to encourage conflict.
"We pray for peace in the Holy Land, we should all be able to serve G-d there with no oppression, as it should be in the Holy City and the Holy Land – and Jews should be able to practice their religion free of persecution."
At the conclusion of the meeting Dr. Zarif requested that a member of the Jewish delegation conclude with a prayer. Dovid Feldman expressed a prayer to the Almighty for world peace: "All people, regardless of their origin and regardless of where they live, should be able to live in peace and security."