Leaders and school administrators from the Orthodox Jewish community in Williamsburg met today at the UJO of Williamsburg with NYC Department of Health and Mental Hygiene (DOHMH), a representatives of the Mayor's Community Assistance Unit and representatives of the elected officials of the area, to collaborate on efforts to stem the spread of measles infection in the community.
As per the last Department of Health figures, 6 children are confirmed to have contracted the measles infection and more are awaiting lab results to determine if they have the infection. Measles is extremely contagious, and unvaccinated individuals are susceptible to transmit the infection, even if they don't exhibit symptoms. Measles can be very dangerous and even fatal, especially for those with a compromised immune.
On Wednesday, YWN published a story about a measles outbreak in New York, with 6 residents of Williamsburg and seven residents of Rockland County confirmed to have the disease. An additional eight suspected cases in Rockland County were being investigated involving a mix of adults and children. Many are linked to recent travel to Israel which has been dealing with the disease for months.
In order to stem this outbreak, parents must ensure that their children received the recommended vaccination doses, at age 1 and a second one at age 4.
Measles infections are far more prevalent in Israel and Europe. Hence, before travelling with children overseas, parents should make sure that their children from six months and older are vaccinated.
Measles symptoms include fever, and a rash starting on the fact, trickling down the body and occasionally also appearing on the palms and soles. 
Children exhibiting such symptoms should not attend school, and the parents should contact their doctor to arrange for an appointment privately, in order not to transmit the infection to other patients.
Those contacted that they or their child have been at a place with a measles patient, shall make sure to follow their doctor's advice.
Schools where a student was diagnosed with measles, are required by the department of health to exclude all non-vaccinated students until 21 days of the last measles case in the neighborhood.
Dr. Jane  Jane R. Zucker, MD, Assistant Commissioner of the NYC-DOHMH Bureau of Immunization, updated community leaders and school administrators, on the outbreak, and discussed how to ensure that the entire community follows all tips, to stop this outbreak before it results in many more sufferings. The meeting was also attended DOHMH Associate Commissioner Sam Miller and a number of DOHMH representatives, Mr. Pinny Ringel, Senior member of the Mayor's Community Assistance Unit, and representatives from the offices of Assemblyman Joe Lentol, State Senator Kavanagh and Councilman Steve Levin also participated at the meeting and committed their support in the effort to stop the outbreak.
"For decades, the UJO worked with the NYC Department of Health and the local schools and community leaders to stop outbreaks of infectious diseases. This collaboration is vital for the health of the community. We will continue efforts to ensure that everybody follows the above instructions," said Rabbi David Niederman, president of the UJO of Williamsburg and North Brooklyn. "We are thankful for the Department of Health for the early detection, alert of this outbreak, and we pray that with everyone's cooperation we will be able to stop the spread of this disease."
On Thursday, the Visnitz Monsey Girls School announced that any child who is not immunized, can't return to school for 21 days. No "religious exemption" is accepted. A religious exemption does not work when there is a measles outbreak.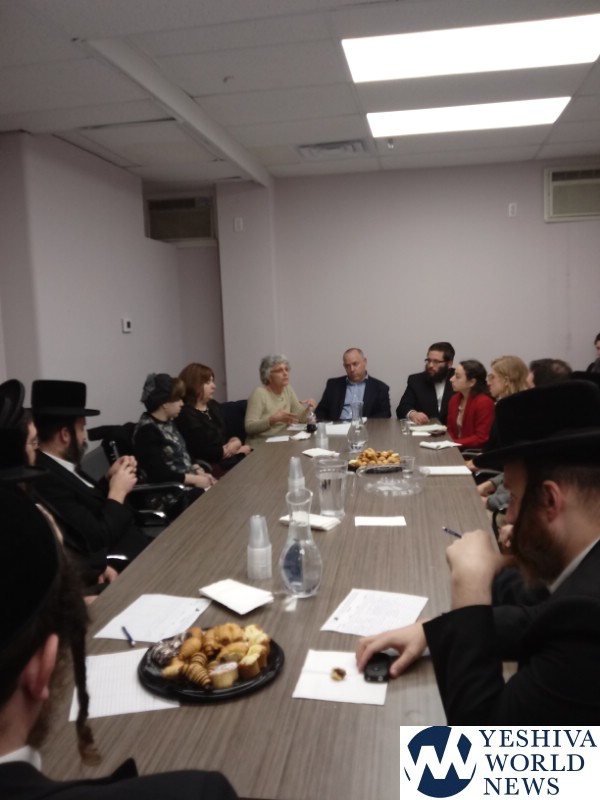 (YWN World Headquarters – NYC)