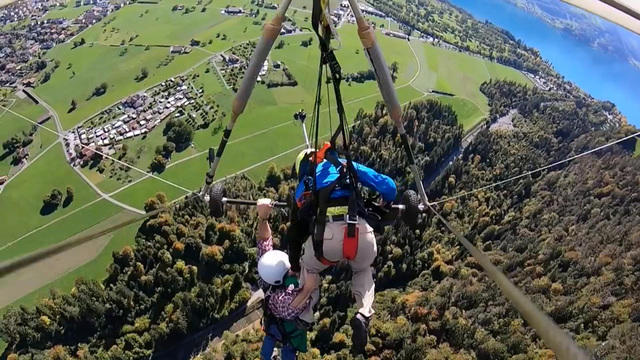 Switzerland's civil aviation authority said it will question a hang-glider pilot after a tourist he flew over a picturesque Swiss landscape nearly fell hundreds of meters (yards) to the ground because his harness wasn't properly attached.
A nail-biting video of the incident drew million views on YouTube by Tuesday, a day after it was posted.
The victim was identified as American YouTuber Chris Gursky.
The video edit titled "Swiss Mishap" starts with a written introduction and then zooms in on the two men, with a note that the passenger's harness isn't attached. After a countdown and running to a takeoff, the passenger dangles to the pilot's left, variously clinging to the bar or to the pilot's clothes.
At times, the hang glider sways but the pilot finally recovers control, at times hoisting up the dangling passenger over the tree line with mountains and a lake in the background, the video shows.
Toward the end of the nearly four-minute excerpt, the passenger ejects over a grass field and the pilot lands. Unfortunately Gursky suffered a fractured wrist and torn bicep tendon and required surgery. Online photos (see below) show him in a hospital bed, and an X-ray.
Describing the terrifying trip, Gursky said: 'I looked down once and I thought to myself: "This is it, I'm going to fall to my death. I'm a goner".
The Associated Press couldn't independently verify the authenticity of the video.
Spokesman Antonello Laveglia of the Federal Office of Civil Aviation said the agency planned to "reconstruct the events" of the flight and would hear the pilot's account, and possibly those of other witnesses.
"Only with such information will it be possible to evaluate possible further action," he wrote in an email.
Christian Boppart, director of the Swiss Hang Gliding Association, said he knew who the pilot was but wanted to respect his privacy as the matter is taken up by authorities.
"The pilot knew he made a terrible mistake, but afterward he made a good save," Boppart said by phone. "The first lesson is that you check before starting that everything is good, and that everybody is attached."
Switzerland draws millions of tourists each for its bucolic Alpine vistas, outdoor activities and other attractions.
Boppart said serious injuries from hand gliding in Switzerland were rare.
(AP)