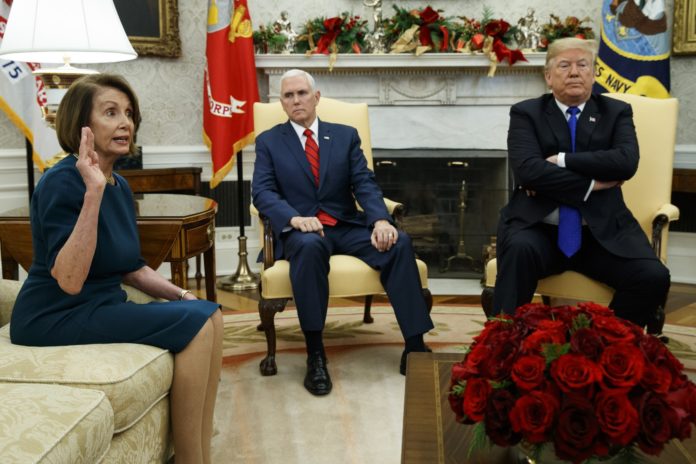 After their raucous Oval Office meeting aired earlier on live TV, President Donald Trump is now saying that the private part of his meeting with Democratic leaders was "very friendly."
He said at a bill signing Tuesday afternoon that after reporters left the morning meeting with Democratic Senate and House leaders Chuck Schumer and Nancy Pelosi, they all had a good discussion.
Trump said: "Believe it or not, I think it was a very friendly meeting. You just saw the beginning of it."
He went on to say that he has liked the two Democrats for a long time.
The president says he doesn't mind taking the blame for a government shutdown if the two sides can't agree on funding for border improvements.
Pelosi later boasted that she and Schumer had goaded Trump to "fully own that the shutdown was his."
Pelosi's remarks to Democrats were described by an aide in the room who was not authorized to speak publicly.
According to the aide, Pelosi said: "It's like a manhood thing for him. As if manhood could ever be associated with him. This wall thing."
She adds of the meeting: "It goes to show you: You get into a tickle contest with a skunk, you get tinkle all over you."
Pelosi also told colleagues that Trump insisted during the Oval Office meeting that Mexico will pay for the wall "one way or another."
She told him Mexico isn't going to pay for it. The president responded that Mexico would pay with money the U.S. will make from the revised North American Free Trade Deal, known as USMCA.
Pelosi told the president "that's terrible" and told him she's going "go out and tell people that you think that Mexico is paying for it with money that should be going into our economy."
(AP)