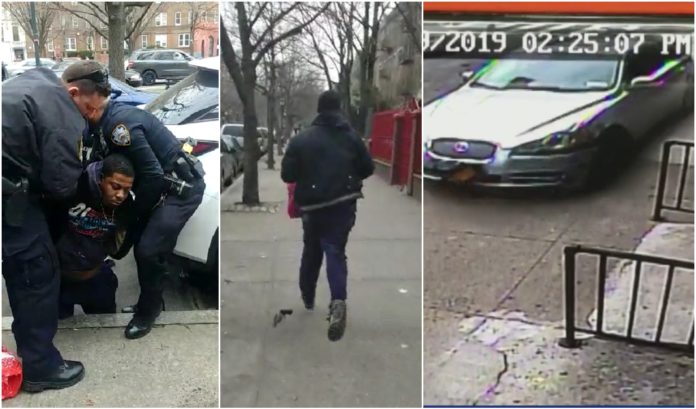 A wild crash in Brooklyn ended with Good Samaritans chasing down the driver who police say was intoxicated and armed.
Police say Andy James, 39, was driving a 2009 Jaguar north on Troy Avenue near President Street in Crown Heights around 2:30PM on Friday when he plowed into at least 5 vehicles. Surveillance footage show the car jump the curb, narrowly missing pedestrians. [See news report below]
An off-duty member of the Coast Guard witnessed the ordeal and chased after him, all while recording it on his cell phone. After tackling him to the ground, other good Samaritans helped hold the suspect down until police arrived.
In the video attached below, the suspect is seen dropping the gun while being chased, and then being apprehended.
Cops found marijuana and an open container in his car, which didn't have an up-to-date inspection.
James was arrested and hit with a slew of charges, including reckless driving, menacing, criminal possession of a weapon, and operating a vehicle above 0.8.
James has previously faced charges relating to guns, marijuana and robbery, police said.
The NYPD's 71st precinct thanked the good Samaritans in a tweet of the suspect's handgun.
#NYPDNeighborhoodPolicing at it's #FINEST! 71 Daytime Steady Sector Patrol Officers team up with #CrownHeights community and make gun arrest! #OneLessGun in #Brooklyn. pic.twitter.com/0Gx0r981f2

— NYPD 71st Precinct (@NYPD71Pct) March 29, 2019