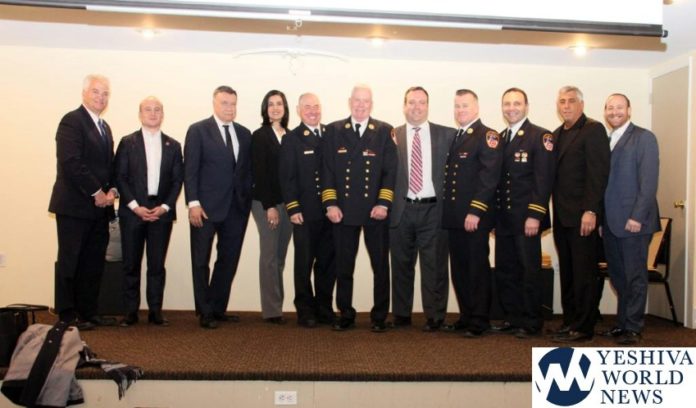 On April 5, 2019, The Council of Jewish Organizations of Staten Island in conjunction with the NYPD and Shomrim held its Annual Pre-Passover Briefing. In addition to engaging in holiday preparations with the Uniformed Services, NYPD, FDMY and DSNY, COJO also presented Certificates of Appreciation to members of the NYPD, FDNY and DSNY.
COJO Officials and top brass of the NYPD, FDNY and DSNY were in attendance to discuss the holiday and preparations were made to help facilitate a smooth holiday experience. Also participating in the holiday preparations and awards ceremony was District Attorney Michael E. McMahon, Congressman Max Rose and Assemblywoman Nicole Malliotakis.
Mendy Mirocznik, President of COJO thanked Assistant Chief Kenneth Corey, the Commanding Officer of Patrol Borough Staten Island for coordinating security, FDNY Borough Chief Richard Howe for coordinating bread burning and DSNY Borough Chief Stephen Montanino for coordinating sanitation for the Passover holiday.
Mirocznik praised and credited New York's Uniformed Service People as great public servants who's around the clock dedication to public safety and general welfare allows the residents of Staten Island to enjoy a great quality of life.
Mirocznik, thanked Scott Maurer, the CEO and Executive Vice-President of COJO; and Ari Weiss, COJO Security Chair and Coordinator of the Staten Island Shomrim for organizing a great security briefing.
COJO is proud to advise the community that on April 19, 2019, there will be barricades at all Bread Burning/Biur Chometz locations and FDNY together with SISP-Shomrim will be present to supervise each location from 8AM to 12PM. The Bread Burning/Biur Chometz will be taking place at Young Israel of Staten Island, and at Khal Agudas Shomrei Hadas of Staten Island. COJO further advises that Sanitation besides having their dumpsters at Young Israel of Staten Island from Thursday, April 18, from 4PM to 11PM and Friday, April 19, from 6AM to 1PM there will be additional Sanitation dumpsters at Khal Agudas Shomrei Hadas of Staten Island.
The following members of the NYPD, FDNY and DSNY received medals for their service.
NYPD:
Assistant Chief Kenneth Corey
Deputy Chief Scott Henderson
Inspector Thomas Delahanty
Inspector Robert Bocchino
Inspector Vincent Patti
Lieutenant Rafet Awad
Detective Danielle Nunez
Detective Mary Kelly
SANITATION:
Borough Chief
Stephen Montanino
Superintendent Fred Tuzzolino
Super of District SI-2
Deputy Chief Thomas Sica
DC in SI Borough Office
FDNY:
Assistant Chief Richard J. Howe
Staten Island Borough Commander
Deputy Chief Brian Gorman
Division 8 Commander
Deputy Chief Dave Maj
Division 8
Deputy Chief PhilipSolimeo