Excitement is building in Brooklyn, as a major ballgame will be held in just a few weeks. As YWN has reported in the past, Flatbush Hatzolah has been playing weekly summer baseball games against various NYC agencies – such as NYPD and FDNY to foster a spirit of camaraderie and friendship. These ball games have successfully enhanced the unique relationship between the various agencies and Hatzoloh, and gives all a chance to "get out of the work uniform" and further enhance the important partnerships and understanding that the community can really count on. While always competitive, the games have been enjoyed by all.
As an example of a weekly game, this week on Tuesday night, Flatbush Hatzolah played the NYPD's 66 Precinct. In fact, the enthusiasm was so high, that two games were played back-to-back. NYPD lost both games.
But the highlight of the summer games for all will most definitely be Wednesday evening July, 17, when thousands will gather to the smell of kosher hot dogs, cut grass and the sounds of cheering crowds at the world famous Coney Island MCU Park – as the NYPD will "play ball" against Hatzolah. The game was organized by the NYPD PBBS and Flatbush Hatzolah, and will be open to the public.
Unlike previous years, this game will be totally free – thanks to gracious sponsors – and thousands will be grabbing the tickets, on a first come first serve basis. The stadium holds around 5,000 people.
NYPD Deputy Chief Charles "Chucky" Scholl who has been a major force behind these games, explained to YWN that the working relationships formed on the field is priceless when it comes to working together at tragic scenes and mass casualty incidents.
"The police officers get to know many Hatzolah volunteers who are most of the time the first responders at scenes in various parts of the Boro, and the professionalism and workmanship between them has no question been bonded over the years due to these games", Scholl told YWN.
"We are friends on the field, and even better friends off the field, and we hope to see the stadium packed with people cheering for the NYPD of course".
Known for his humor Scholl quipped "Summonses will be issued after the game to anyone who wasn't cheering for NYPD".
The opening pitch will be at 6:30PM. At 7:30/45 there will be a performance by the Chicago Boyz Acrobatic Team, with the game continuing at around 8:30PM.
Kosher hot dogs & other food will be available as well. (MCU Park is located on Surf Avenue at West 16th Street in Coney Island.)
Tickets can be picked up at the following stores:
Brooklyn Bagel – Flatbush
Eichlers – Flatbush
Bon Appetit – Flatbush
Judaica Place – Flatbush
Jerusalem Glatt – Flatbush
Hatzolah Building – Ocean Avenue
Mostly Music – 13 Ave
The Tree House – 16 Ave
Gift World – Queens (Main Street)
Safra Judaica – Queens (Main Street)
Judaica World – Crown Heights
Judaica Plus – Five Towns (Central Avenue)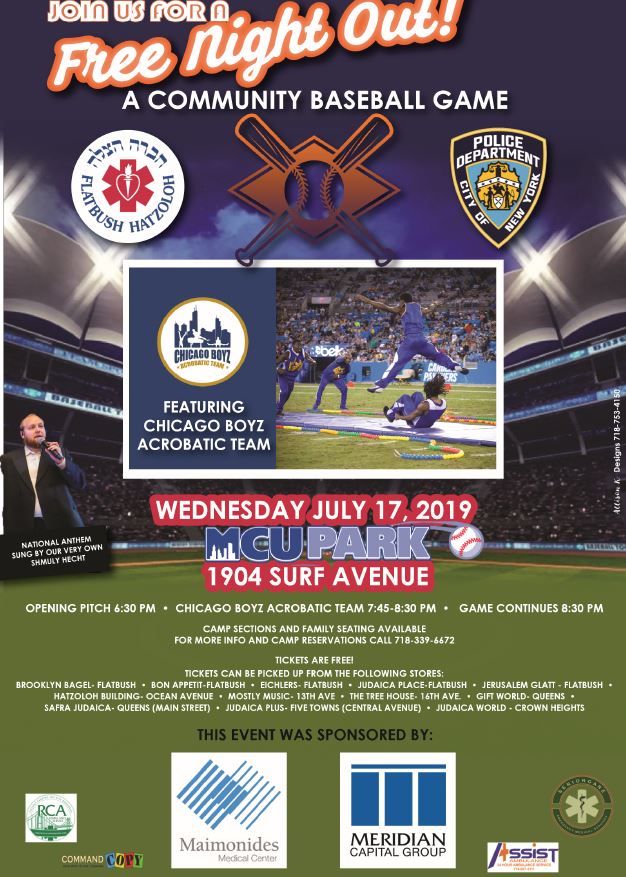 (YWN World Headquarters – NYC)