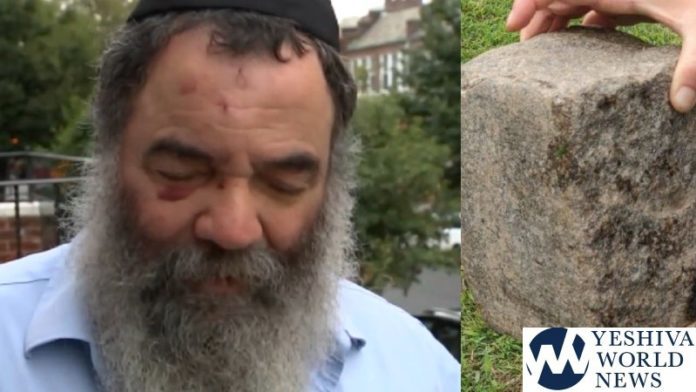 The suspect wanted in a vicious attack against a Jewish man in Crown Heights has been arrested.
An NYPD source confirmed to YWN that the man was taken into custody this morning.
As YWN had reported, 63-year-old Rabbi Abraham Gopin was walking in Lincoln Terrace Park in Crown Heights when he was brutally attacked.
The suspect threw a large brick at the victim. He lost two teeth and broke his nose in the attack, and received several stitches.
A Crown Heights Hatzolah member saw the victim with blood on his face on Empire Boulevard and Utica Avenue, and called for additional assistance.
No words were exchanged between the suspect and the victim prior to the attack.
The suspect is currently hospitalized in a psychiatric ward at a local hospital.
Charges were pending, and his name was not yet released.
[HE WAS GOING TO KILL ME: Jewish Man Brutally Attacked In Crown Heights Speaks Out]
See the videos below of various interviews the victim gave to the media following the attack:
This morning my father in law was back in the park. He refuses to be afraid, and he will not let evil or hate determine how he lives his life. L'chaim!

— Benny Friedman (@BennysMusic) August 28, 2019
He threw this huge brick at my father in law. My FIL says there was no question this man had murder on his mind. My father in law tried to defend himself. He is in hospital now with a broken nose, missing teeth, stitches on his head and lacerations on his body.

— Benny Friedman (@BennysMusic) August 27, 2019
(YWN World Headquarters – NYC)