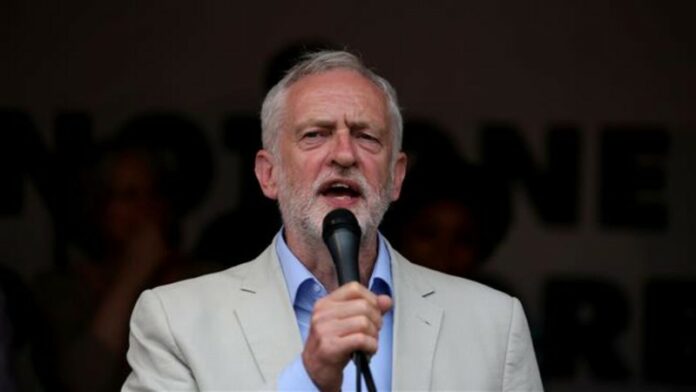 Jeremy Corbyn of the UK Labour Party has a long track-record of being an anti-Semite, and the UK Jewish community is concerned with the upcoming elections. In light of that, UK Chief Rabbi Ephraim Mirvis spoke out against Corbyn just two days ago. Rabbi Mirvis said that "the overwhelming majority of British Jews are gripped by anxiety", and warned against voting for the Labour Party.
In response, the Archbishop of the UK threw his support behind Rabbi Mirvis as well as the Muslim and Hindu community leaders.
Corbyn was then given a chance to apologize to the Jewish community in an interview on the BBC on Tuesday. Corbyn refused to apologize to the Jewish community SIX TIMES during that interview.
Despite all of this, on Wednesday, the organization "United European Jews" wrote a letter of support to Corbyn. The letter is signed by Rabbi Meyer Weinberger, a Satmar Dayan.
Not only does Rabbi Weinberger defend Corbyn for his support of the British Jewish community, but actually thanks him.
Someone might want to let Rabbi Weinberger know that among his many acts of hate, Corbyn met with the mastermind of the Har Nof Massacre. Perhaps Rabbi Weinberger does not consider that a "massacre" since it was carried out by a Palestinian in the name of fighting Zionism, and so it doesn't matter that Rabbi Avraham Shmuel Goldberg HY"D, 50, Rabbi Moshe Twersky HY"D, 59, Rabbi Kalman Levine HY"D, 50, and Rabbi Aryeh Kupinsky HY"D, 40, were all hacked to death with axes by two PFLP terrorists while they were davening Shachris. Corbyn has never apologized for meeting with the murderous mastermind, yet Rabbi Weinberger "thanked" Corbyn today.
Here are parts of the letter:
"I write to you on behalf of the Executive Board of the United European Jews organisation regarding an unusually disturbing declaration that was today reported in the media claiming that the overwhelming majority of British Jews are "gripped by anxiety" at the prospect of a Labour victory in the forthcoming general election.
Please not that we totally reject and condemn in no uncertain terms these remarks, which does not represent the views of the mainstream chareidi Jews that live in the UK.
We believe that such assertions are due to propaganda with a political and ideological agenda. An agenda which, I might add, is diametrically opposed to fundamental Jewish values as well as the opinions of tens of thousands of Jews in our community.
At this time, we also relay our gratefulness for your numerous acts of solidarity with the Jewish community over many years and also welcome your assurances that Labour will do everything necessary to defend the Jewish way of life and protect our rights to practice our religion.
For all this, we take this opportunity to say: Thank you! Mr. Corbyn.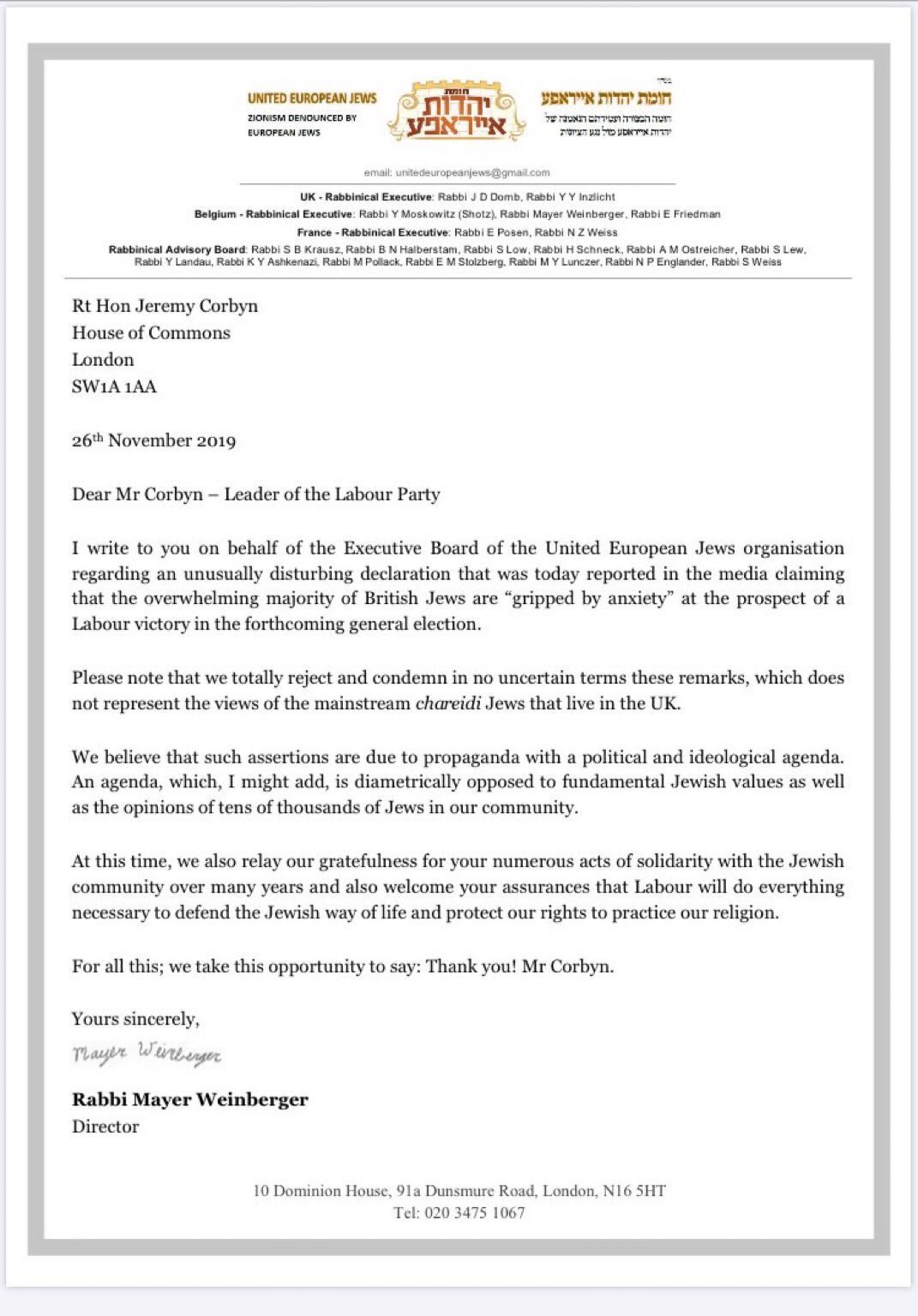 (YWN World Headquarters – NYC)