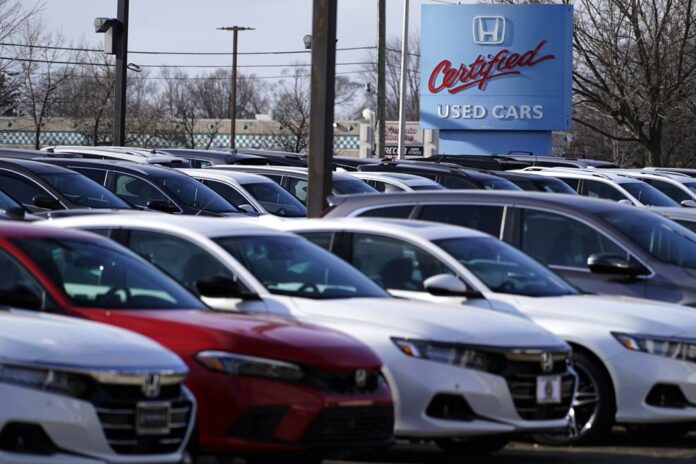 At first, it didn't even register as a threat. Then it seemed like a temporary annoyance.
Now, inflation is flashing red for the Federal Reserve's policymakers — and delivering sticker shock to Americans at the used car lot, the supermarket, the gas station, the rental office.
On Wednesday, the Labor Department reported that consumer prices jumped 7% in December compared with 12 months earlier — the hottest year-over-year inflation since June 1982. Excluding volatile energy and food prices, what is called "core" inflation rose 5.5% over the past year, the fastest such pace since 1991.
Bacon prices are up nearly 19% from a year ago, men's coats and suits nearly 11%, living and dining room furniture more than 17%. Renting a car will cost you 36% more, on average, than it did in December 2020.
"Prices are increasing broadly throughout the economy, and the Federal Reserve has been caught off-guard by the extent of inflation,″ said Gus Faucher, chief economist at PNC Financial.
It wasn't supposed to be this way — not with the coronavirus pandemic keeping people hunkered down at home and triggering a devastating recession beginning in March 2020. Barely more than a year ago, the Fed had forecast that consumer prices would end 2021 only about 1.8% higher than they were a year earlier, below even its annual 2% inflation target.
Yet after having been an economic afterthought for decades, high inflation reasserted itself last year with astonishing speed. In February 2021, the Labor Department's consumer price Index was running just 1.7% ahead of a year earlier. From there, the year-over-year price increases accelerated steadily — 2.6% in March, 4.2% in April, 4.9% in May, 5.3% in June. By October, the figure was 6.2%, by November 6.8%.
At first, Fed Chair Jerome Powell and others characterized higher consumer prices as merely a "transitory" problem — the result, mainly, of shipping delays and temporary shortages of supplies and workers as the economy rebounded from the pandemic recession much faster than anyone had anticipated.
Now, many economists expect consumer inflation to remain elevated at least through this year, with demand outstripping supplies in numerous areas of the economy.
And the Fed has radically changed course. As recently as September, Fed policymakers had been divided over whether to raise rates even once this year. But last month, the central bank signaled that it expects to raise its short-term benchmark rate, now pinned near zero, three times this year in an effort to quell inflation. And many private economists expect as many as four Fed rate hikes in 2022.
"If we have to raise interest rates more over time," Powell told the Senate Banking Committee on Tuesday, "we will."
(AP)