The following article is part of a new series presented by Jewish Content Network which will discuss business ideas, marketing advice, and feature new business technologies, in an effort to help small business and organizations thrive and succeed. 
What is Canva?
We were delighted when we discovered Canva. Canva empowers us to create compelling graphics by offering high end templates and allows for easy editing.
A picture is worth a thousand words, and a picture with words is worth even more. But it's hard to get all those elements to look good together on a page, and this is where Canva saves the day by doing the heavy lifting for you.
Here are some awesome reasons why we love Canva, as well as some cool tips to get the most out of their platform:
Layouts
Canva's biggest contribution is their pre-defined layouts. The homepage of the platform offers dozens of different templates for any type of graphic need – from blog post and email headers, to social media graphics and flyer and poster designs.
Canva allows you to drag and drop images into predefined areas, instantly swapping out new backgrounds and featured photos while maintaining the right dimensions and filters.
They do the hard work of picking fonts,images,and colors as well, you just need to put in your own text.
They do the hard work of picking fonts,images,and colors, you just need to put in your own text.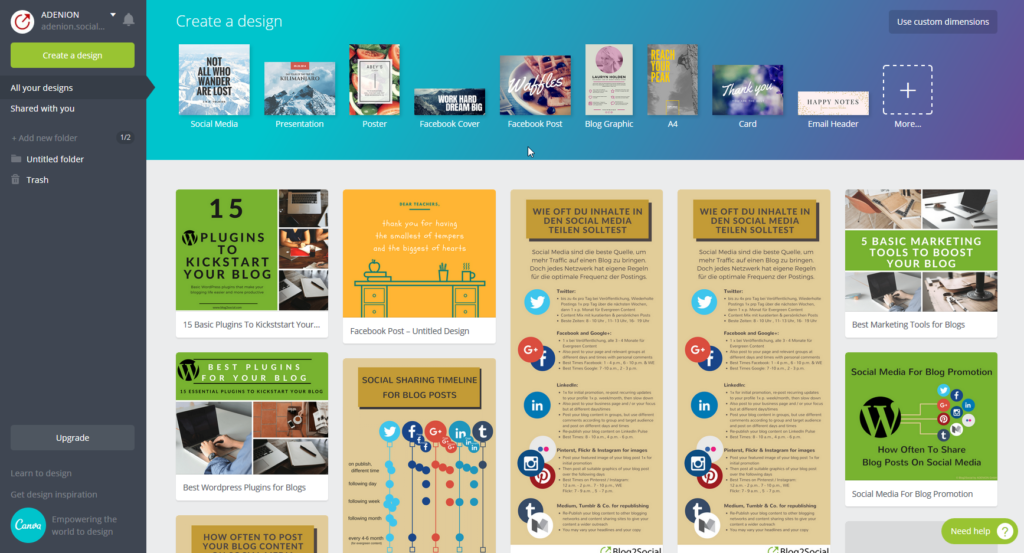 Stock photography
Canva's revenue model revolves mostly around selling stock photos. They have a few free photos to choose from, but most of them cost $1 each to use in your design. If you've ever tried buying a stock photo, you'll know that this is both a very good price as well as a remarkably simple process. Most stock photo sites make you struggle with unclear pricing, subscriptions, and credits, Canva's process is super straightforward.
But there's a secret here. Canva allows you to upload your own images. So we use completely free stock photo sites like Pexels and Pixabay to upload our own pictures and integrate in your design.
Canva Pro
Canva's pro account has even more options. On more than one occasion, we've found ourselves needing our graphics in different sizes. Canva allows you to resize a project to a new dimension, keeping the elements you've already been using in the current project.
 
It also allows you to upload templates and brand files to your account, making it easy for you to create graphics with a consistent visual feel.
 
Canva Design academy
No matter how simple they make it, the more graphics principles you know, the better your designs will come out. Canva has their own design academy where they teach you the basics of design all while working with their platform, allowing you to become familiar with the tools at your disposal, as well as the ways you can use Canva to create compelling designs.
 
·      For example:
To create contrast, put white fonts on dark backgrounds. Canva allows you to add filters and partially transparent elements to create this contrast
·      Choose only a few fonts – Canva can pre-select fonts for you in their layouts, and you'll learn how to effectively combine serif and sans-serif fonts.
·      Use your space effectively. Laying out your content in a symmetrical way can create a more visually appealing design. Canva's layouts do a lot of this work for you, and their guide rules that appear when dragging elements around make it easy to line things up the way you want.
 
We highly recommend you give Canva a shot and start churning out great looking designs to use when promoting your business.
 
Chaim Chernoff is the Chief Marketing Officer at the Jewish Content Network. Always on the lookout for latest digital marketing trends, Chaim aims to help businesses expand their presence and grow their business in the digital world. He can be emailed at [email protected]