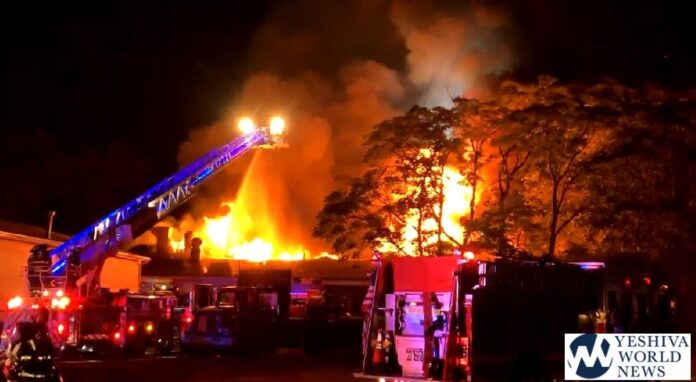 An inferno ripped through the kitchens of Greenwald Caterers in Lakewood on Sunday night, destroying the commissary used for most events.
The fire started just after 8:00PM at the headquarters of Greenwald Caterers located on 8th Street near Princeton Avenue in the heart of Lakewood.
Initially, there was just a heavy smoke condition, and the Lakewood Fire Department was working on containing the blaze. But by 8:45, a second alarm was requested and all fire fighters were removed from the structure. Heavy fire began moving through the building, with the roof collapsing.
The homes on the block were evacuated as a precaution, due to propane tanks inside the fire building. Electricity was cut to nearby homes as well.
Greenwald Caterers is the leading caterer in Lakewood for decades. They are the exclusive caterers at Lake Terrace Hall and Ateres Chana Hall in Bais Faiga, as well as in many halls around the Tri-State area. They specialize in high end events and do dozens of hotel getaways each year.
NOTE: All weddings and events that are catered in Lake Terrace and Bais Faiga are not cooked out of the commissary.
*****SIGN UP NOW —- GET YOUR NEWS IN RECORD TIME***** Make sure you are one of the more than 22,000 that signed up to YWN WhatsApp Status to receive news in live time. Click this link – or send a message to 1-888-4-YW-NEWS (888-499-6397) – to see our status posts*****
(YWN World Headquarters – NYC)