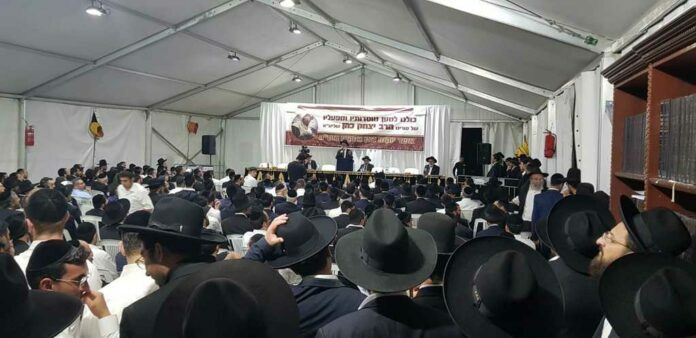 Jerusalem Mayor Moshe Leon has succeeded in bringing the sides together in the machlokes over tent rights for Rosh Hashanah in the Shmuel HaNavi area of the capital.
Mayor Moshe Leon brokered an agreement between Karlin Chassidim and the sephardi tzibur in the Shmuel HaNavi neighborhood of Jerusalem. As reported by YWN-Israel, matters reached a new low when the Sephardi Chief Rabbi of the community, HaGaon HaRav Yitzchak Cohen received death threats in the matter.
After a number of weeks of machlokes and increasing strife, Mayor Leon on erev Shabbos reached the agreement pertaining to the use of a plot of land in the Shmuel HaNavi neighborhood to erect a tent for Rosh Hashanah. The agreement stipulates that the sephardi bnei yeshivos will leave the tent on Elul Street, permitting the chassidim to use it, as they did last Rosh Hashanah. The chassidim will set up another tent on their own, one capable of accommodating 5000 mispallalim on Yomtov.
The chassidim will also set up a tent for the sephardi kehilla on a plot nearby, to be used by them on Rosh Hashanah. After Rosh Hashanah, the chassidim will leave the tent, which will then be used by the sephardi bnei yeshivos during the year. Shas party chairman, Minister Aryeh Deri was very involved in the negotiating process as was the party's Jerusalem deputy mayor, Tzvika Cohen, along with Shmuel HaNavi Rov, Rabbi Yitzchak Cohen and representatives of the Karliner Chassidus.
The mayor praised all involved and the fact agreement was reached. He thanked Aryeh Deri and Deputy Mayors Yossi Deutsch and Avraham Betzalel as well.
(YWN Israel Desk – Jerusalem)