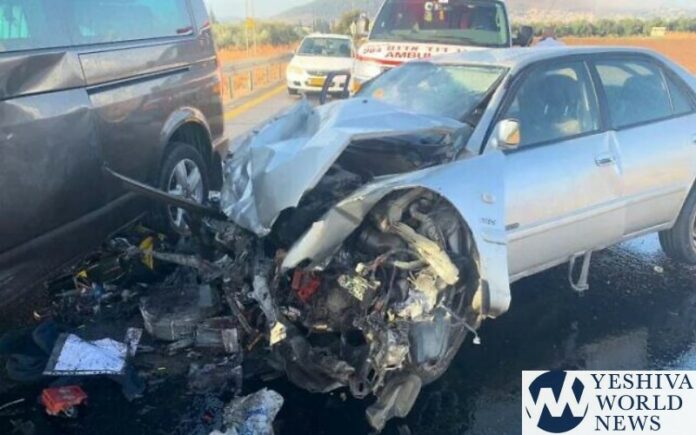 The 49-year old woman who was killed in a car crash on Monday morning in the lower Galil was identified as Kinneret Amar A"H, a mother of six from Yavniel, an Israeli moshav, Ynet reported on Tuesday morning.
On Monday morning, Kinneret had driven one of her sons to school and was on the way back to her home in Yavniel to pick up another son. When she didn't arrive and failed to answer her phone, her husband and two of her sons went to search for her and discovered the worst of all – their wife and mother was killed in a head-on crash.
"Abba woke me up in the morning and told me that Ima isn't answering the phone and she was supposed to be back already," Kinneret's oldest son Stav told Ynet. "I called her again and again but she didn't answer. I saw on the Internet that a 41-year-old woman was killed and I calmed down because Ima is 49, but I had a bad feeling in my stomach. We drove to the area – I and Abba and my brother Ziv – and we saw Ima's car. We ran and Ziv opened the door of the ambulance and we saw Ima's face."
"My heart wanted to believe that Ima was injured and will come back to us, there was a slight chance that maybe she was only injured. But we woke up to a nightmare for life. There's no greater tragedy than losing a mother. We lost our pillar, our life. This is the most dangerous highway and this time it took my mother."
Moshav Yavniel was engulfed in mourning as residents tried to come to terms with the tragic death of Kinneret, who grew up on the moshav.
The accident happened on Highway 767, dubbed the "highway of blood" due to the dozens of accidents that have occurred on it and the lives it has taken. Since the beginning of January 2018, three people were killed on the same 2.5 mile stretch of the highway, a Walla report said.
No changes were made to the highway for dozens of years but currently, roadwork is underway to repair two dangerous junctions and in the past year other improvements were carried out. But the highway is still narrow, with almost no shoulders on the side, and has inadequate lighting for nighttime driving. Meanwhile, the population of the yishuvim along the highway has grown, increasing the volume of traffic on the highway.
Following the death of a young mother of three on the highway in January 2018, the residents of the lower Galil held a protest, blocking traffic and demanding that the government do something about the "highway of blood."
(YWN Israel Desk – Jerusalem)