(PHOTOS IN EXTENDED ARTICLE)
As part of their mission to further develop life-saving operations in the Mevasseret Tzion region, local United Hatzalah volunteers entered into negotiations with the Rami Levy mall in Mevasseret to set up a first aid cabinet complete with an EMT bag and a defibrillator. As part of the negotiations, the mall asked that we throw in the cabinet to house the first aid items at no extra charge.
On this past motzei shabbos, the new kit was put into use for the first time as a 60-year-old man collapsed in the mall. The first responder on the scene was a United Hatzalah trainee who happened to be in the mall at the time of the emergency and was dispatched to the scene by United Hatzalah's dispatch and command center in Jerusalem. The volunteer arrived in less than 60 seconds. He received the medic kit and defibrillator from the security guards of the mall who were instructed in the event of an emergency to open the first aid cabinet and rush the kit and defibrillator to the scene.
The trainee began CPR and attached the defibrillator which recommended an electric shock. The shock was given, and the person's pulse returned. Other volunteer first responders who were in the area arrived at the scene and began assisting in the advanced treatment of the collapsed man. When the incident was over, the man was sent to the hospital for further treatment and evaluation after regaining full consciousness.
"We've been working hard at making sure that the residents of Mevasseret and the surrounding area have the proper medical response in the shortest time possible. This has involved increasing the number of training courses for volunteers, as well as setting up first aid closets in public buildings, such as the one used in the mall," said Ophir Ben Yitzchak the chapter head of United Hatzalah in the Mevasseret region.
"This is another one of those examples where our hard work and forethought paid off and a person's life was saved as a result. There is no better feeling to an EMS responder then to know that you were instrumental in saving someone's life. Here the whole team who worked on the agreement with the mall, and the mall's management also share part of that honor."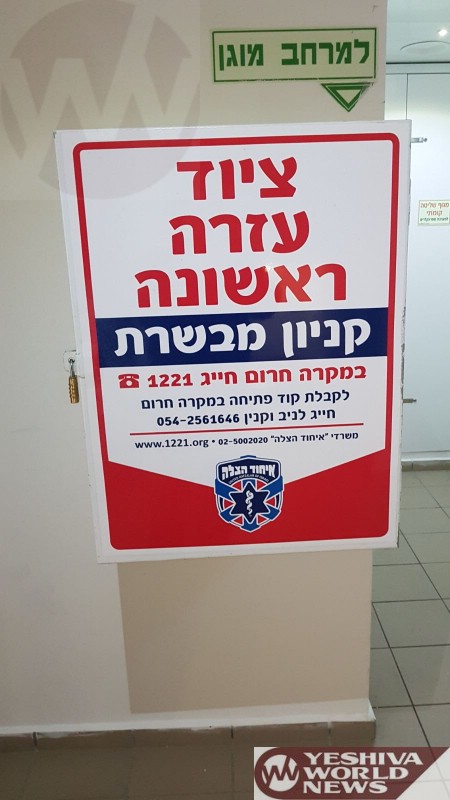 (YWN – Israel Desk, Jerusalem/Photo Credit: United Hatzalah)