(VIDEO AND PHOTOS IN EXTENDED ARTICLE)
In the accompanying photo, we see Yesh Atid leader Yair Lapid with a chareidi person who appears close to him. They were photographed at a Tel Aviv train station Sunday morning 17 Adar as they were promoting the party's 'share the burden' campaign.
According to a Bichadrei Chareidim report, the 'chareidi' at Lapid's side during the campaign against chareidim is not truly chareidi, but a boxer of Russian origin who lives in Netanya.
Some of the little nuances that tipped people off include he was wearing a black tee-shirt under his white shirt and his yarmulke appeared to be the type one might wear when in the process of becoming a baal teshuvah, as well as the clip, which is not worn by chareidim. Lapid wished to show he has a chareidi supporting him, at his side, but the façade was revealed.
The 'chareidi' male is Dave Mandelstam, and his Facebook page shows him numerous times at Lapid's side, but in many of the photos, we see he is not religious, yet alone chareidi.
It was also learned he did not write the sign he was holding at Lapid's sign as he is doesn't know how to write Hebrew properly.
In the second photo, we see Dave without the chareidi disguise.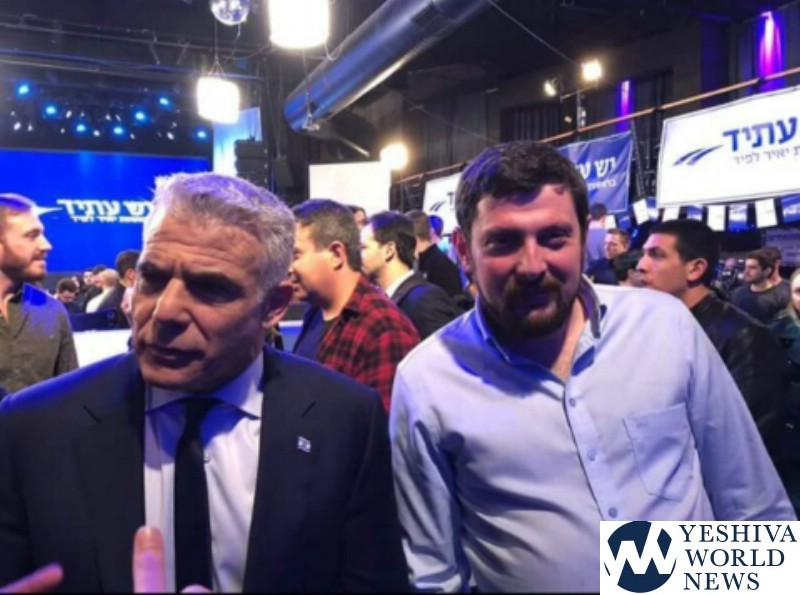 (YWN Israel Desk – Jerusalem)