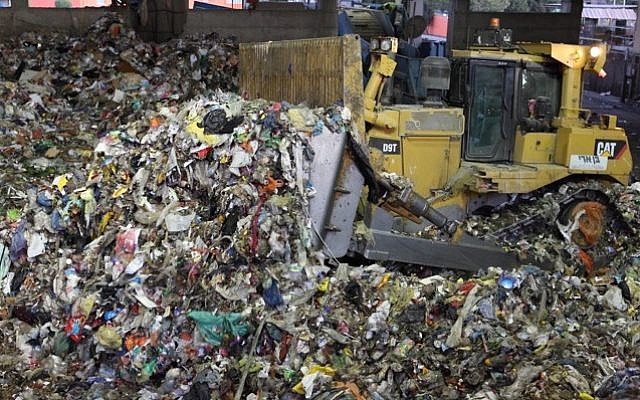 Leket Israel in partnership with BDO, released its Third National Report on Food Waste and Rescue in Israel. The press conference was held on Tuesday, 26 Adar, at Leonardo City Tower Hotel.
The report presents, for the first time in Israel, a detailed model for the estimation of food loss in the retail and distribution sectors: in retail chains, open markets, local grocery stores and small retailers.
The Food Waste and Rescue in Israel Report reveals that food loss in Israel this year amounts to 2.3 million tons with a market value of NIS 19.3 billion (US $5.6 billion). A large part of the loss is rescuable; approximately 1.1 million tons, valued at NIS 7 billion (US $2 billion). Almost half of the value of salvageable food is found in the retail and distribution sectors, with total food loss in these segments amounting to 400,000 tons this year, worth 4.2 billion shekels (US $1.2 billion).
The loss in the retail and distribution sectors is of particularly high economic value, since it includes the entire investment: growth, production, packaging and transportation. This refers specifically to food that is produced for marketing and consumption and is lost even before reaching the consumer. Due to the characteristics of the loss at this stage, the vast majority of the food is rescuable and can be prevented from becoming waste. Of the NIS 7 billion (US $2 billion) worth of food that can be saved, NIS 3.5 billion (US $1 billion) is in the retail and distribution sectors.
The report also reveals that rescuing 470,000 tons of food loss each year, constituting about 20% of the total amount of food loss in Israel, will fill the gap between food consumption and the normative expenditure of the Israeli population living in food insecurity.
According to Gidi Kroch, CEO of Leket Israel: "The report brings to light that there is enormous levels of food waste that can be saved, if only there was a greater level of public awareness and the implementation of adequate governmental regulation. 18% of the population in Israel lives in food insecurity, when Israel ranks 18th in food insecurity as compared to other OECD countries, and places ninth in expenditure on food in private consumption spending.
This year, Leket Israel rescued 15,500 tons of fruits and vegetables and 2.3 million cooked meals valued at NIS 150 million (US $43 million) and Leket continues its efforts to raise the profile on food waste in Israel. Since the publication of the Inaugural Food Waste and Rescue in Israel Report, two years ago, Leket Israel initiated and implemented new programs for food rescue with the support and through partnerships with the Ministries of Agriculture and Welfare. I am calling on the other government offices to advance this issue, to create a national program that will work to reduce food waste, increase food rescue and actively promote the enactment of the law to encourage food rescue.
It is imperative that Israel set a national goal similar to the UN's resolution of a 50% reduction in food waste by 2030, since adopted by other nations including the US administration," concludes Kroch.
According to Chen Herzog, Chief Economist at BDO: "Israel is lagging behind Western countries in formulating a national policy on food rescue, and as a result, the national economy loses NIS 4.5 billion (US $1.2 billion) every year. Israel, more than any other country, has an economic advantage in rescuing food, due to the combination of high expenditure on food and the growing levels of inequality across the demographic. Food rescue is one of the most effective policy measures to reduce social gaps in the economy, and it is a critical oversight that the government has not yet formulated a comprehensive national plan to rescue food."
Herzog continues: "Retail chains and food manufacturers lost NIS 3.5 billion (US $1 billion) worth of products this year, which is taken directly out of the consumer's pocket. Surplus food in the retail and distribution sectors is inevitable, since retailers are required to ensure a wide, varied and readily available food supply at all times. However, the reality in which excess food is thrown away instead of being donated to the needy is a serious failure on economic, social and environmental levels."
(YWN Israel Desk – Jerusalem)