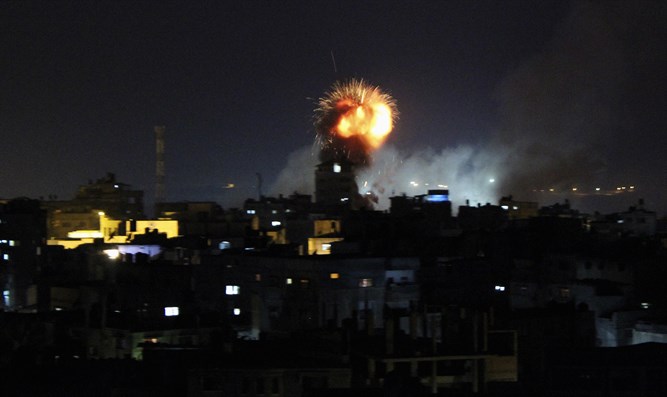 The IDF attacked Hamas terrorist targets in northern Gaza on the night of 27 Nissan, Wednesday night to Thursday, in retaliation for automatic weapons fire that set off incoming rocket warning sirens.
The sirens were activated as a result of the machine gun fire of a terrorist squad at an aircraft. The shooting did not damage the aircraft. The IDF attacked the rocket squad from the air.
The Palestinians reported that an activist in the Hamas military wing was killed in the attack, while another was seriously wounded. The operative is part of the Moabite squad – Hamas forces which are positioned as a nightly defense against Israeli attack or penetration.
This is Muhammad Hjeileh, a Hamas terrorist who was killed last night in Gaza after he fired on an IAF aircraft.

He also participated as a "peaceful protester" in the #GreatReturnMarch on the Gaza border, as part of Hamas's efforts to send terrorists to the Israeli border. pic.twitter.com/6btfMfyUIx

— Ofir Gendelman (@ofirgendelman) April 12, 2018
Also on Thursday, the IDF confirms a bomb placed along the Gaza fence to southern Israel detonated on Wednesday against an IDF D-9, which was clearing the road as is done daily. Immediately following the explosion of the IED, tank fire was directed at a terrorist outlook position.
Abdullah al-Shehri, 28, was shot and killed while throwing stones at soldiers stationed behind the border fence, witnesses told the Associated Press. The IDF said it was unaware of the incident.
An IED that was planted on the Gaza-Israel border fence, under the guise of the Palestinian riots that raged there last Friday, exploded this morning near an an IDF vehicle. No injuries were reported.

That's why we don't allow Palestinian rioters to come near the border fence. pic.twitter.com/9WGOnvp4ZZ

— Ofir Gendelman (@ofirgendelman) April 11, 2018
Thursday's fatalities raises the number of Palestinians killed by Israeli fire over the past two weeks to 34.
There was also machine gun fire directed into Israel, striking a home in a border community. B'chasdei Hashem there were no fatalities or injuries.
The IDF said that "the IDF considers the Hamas terrorist organization responsible for and from any terrorist activity in Gaza and will act decisively against any attempt to carry out terrorist attacks against Israeli civilians or IDF forces acting in their defense."
Palestinian #Pallywood "actors" laugh as they get out of character as an "injured demonstrator" (no blood on his bandage) & his stretcher bearers, last Friday on the Gaza-Israel border.

Pallywood is a Palestinian propaganda strategy that aims to fool the press & public opinion. pic.twitter.com/Y6QAHdIek3

— Ofir Gendelman (@ofirgendelman) April 10, 2018
(AP / YWN Israel Desk – Jerusalem)