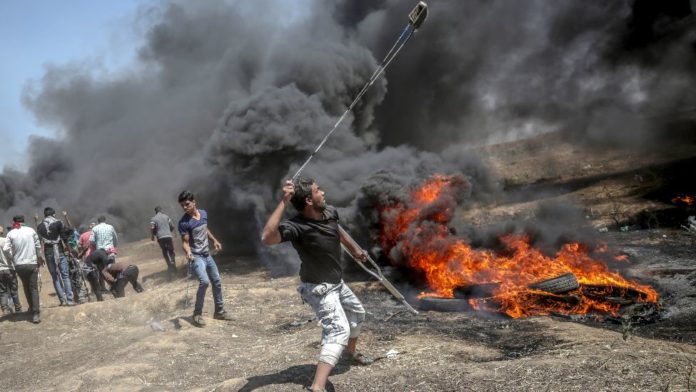 Following the bloodiest day yet in the recent round of Hamas attacks on the Gaza border fence during which some 61 Gaza residents, many of whom were known terrorists were killed, a relatively quiet day passed on Tuesday, the day on which Hamas had originally planned for the largest protest yet. While thousands of Gazans still protested, only two were killed in a dramatic shift from what transpired on Monday.
Israeli media is attributing the change to actions taken by the three major players involved in the security situation along the Gaza border fence. Hamas took the first step on Monday evening when they called all protesters to retreat from the border fence area at 6:00 p.m. Just one hour after the call went out, not a single protester was found in the area striking up conflict with Israeli security forces.
The second step was taken by Israel at 11:30 p.m. on Monday when Israel announced that they would again open the Kerem Shalom crossing of the border, that had been closed due to the large-scale protest and damage inflicted on the Palestinian side as a result of terrorist actions during the protests on Friday.
The crossing was set on fire for the third time since Friday during the protests on Monday. Israeli security officials announced that the decision to open the crossing earlier than scheduled was in order to acquiesce the Egyptians who have attempted to create a dialogue between the two sides and reduce tension and conflict in the area. Following the opening, quiet was restored and not a single security incident was documented throughout the night.
The third step took place on Tuesday morning, when Egyptian leaders told their Palestinian counterparts that the Rafiah crossing in Gaza's southern side will remain open until further notice. Egypt also announced that they would be willing to take in people who were injured during the protests in order to provide them with proper medical care, as Egyptian care is thought to be superior to that attainable in the Gaza Strip.
(YWN Israel Desk – Jerusalem)