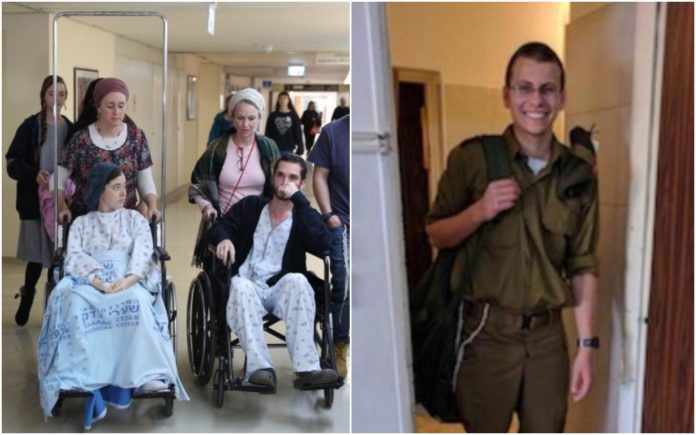 Officials at Jerusalem's Shaare Zedek Hospital on Monday afternoon provided an update on some of the recent victims of terror recuperating in the facility.
Shira Ish-Ran, who was seriously wounded in the Sunday night terror attack at the entrance to Yishuv Ofra remains in serious condition. Her husband Amichai, who sustained gunshot wounds to a leg, remains in light condition. Shira was in her 30th week of pregnancy when the attack occurred. Doctors were forced to deliver the baby as they fought to save the young woman's life. Unfortunately, the baby boy, Amiad Yisrael HY"D, was niftar on Wednesday. Tehillim: שירה יעל בת ליאורה שרה, עמיחי ישי בן פיגה גיטל גלילה
[READ MORE – Couple Shot in Ofra: Our Baby United The Jewish People, Terror Will Not Break Us! [VIDEO]
A young woman, who was injured in a rock-throwing attack on Sunday north of Yishuv Eli, sustained facial factures and is being treated by maxillofacial surgeons. Her condition is described as light-to-moderate.
Shira Sabag, who was wounded in the Givat Assaf shooting attack, remains in serious condition, but is showing signs of improvement. Tehillim: שירה בת מיכל סבג
IDF Nachal Charedi Sgt. Netanel Felber remains in an induced coma ever since his admission to Hadassa Hospital, following the Givat Assaf attack. Tehillim: Netanel Ilan ben Shaina Tziporah
Yesterday, Netanel's father related the following story:
"For whatever reason, I felt a strong desire to put Tefillin on my son. I felt like he would appreciate it, but I had no idea if it was a good idea or not, medically speaking. I asked the nurses, and they were surprisingly receptive. So I took Netanel's tefillin to his bedside. Slowly I started rolling his sleeve up, so I could slide up the shel yad onto his arm. And I'm telling you, from within his coma… Netanel lifted his shoulder, ever so slightly, so I could get his sleeve high enough."
Similarly, this past Friday night, someone walked to the hospital, in order to read the weekly parsha by Netanel's bedside. Netanel's mother noticed that Netanel's pulse, which had been stable the entire day, inexplicably increased in pace during the reading.
The Hebrew version of Rav Eliyahu Meirav talking about his slain stepson, Nachal Charedi soldier Yosef Cohen H"YD (19), has gone viral. Here is his emotional plea, with English subtitles:
(YWN Israel Desk – Jerusalem)