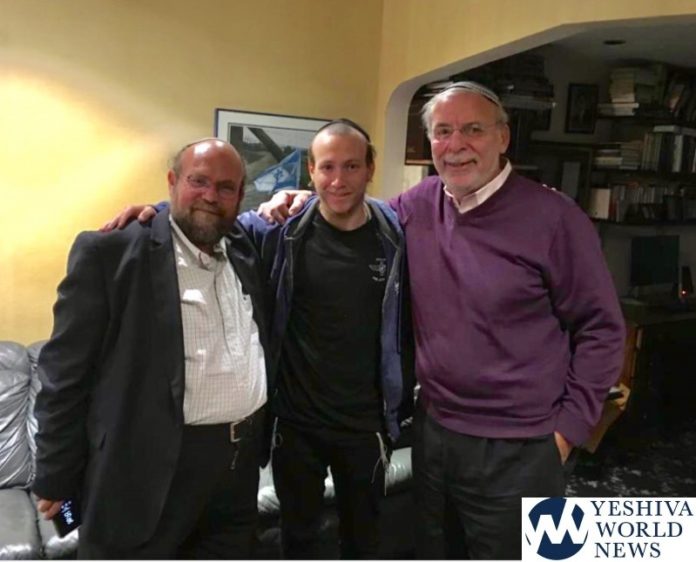 NY State Assemblyman Dov Hikind (D-Brooklyn) had the highest praise for the Osey Chail Association, which provides Charedi lone soldiers with everything that a biological family is meant to provide for a son serving in the army. The Assemblyman hosted Aharon Granot, the association's founder, as well as Yaakov Nissen Baum, a 21-year-old two-year veteran of the IDF, and the three discussed the vital need for support of Haredi soldiers, who are often looked down upon by their families and community.
"The most important thing anyone can do is learn Torah," said Hikind. "But when they are not learning, they should take part in protecting their families against those who want to murder us. Unfortunately, not all families in Israel approve of their children serving in the IDF even when there's the highest level of kasherous and Sabbath observance in their units. Consequently, there's a real need for an organization like Osey Chail, which provides a home, clothing, concern, professional counseling and family to these brave young men. My family was honored to have Yaakov Nissen, an observant soldier, in our home."
Granot, a resident of Kiryat Arba, left his work as an editor of Mishpacha, a haredi magazine, to found Osey Chail in 2016. Since that time, his association has become the point of reference for commanding officers, officers responsible for service conditions, rabbis, and especially for soldiers thrown out of their homes due to their military service. In addition to Sabbath and holiday needs, soldiers are provided with whatever they require, including thermal clothing and anything else that biological parents provide for their children.
"The disconnect between the Haredi community and the IDF is one of the worst things happening is Israel," said Hikind. "We need to heal that wound and Osey Chail is one of the cures. I am proud to support their efforts and hope others will join me in lessoning the burden carried by this association and these fine, religious defenders of Israel and Israelis. Contact me at hikindnews@gmail.com and I'll be happy to make the introduction."
(YWN World Headquarters – NYC)