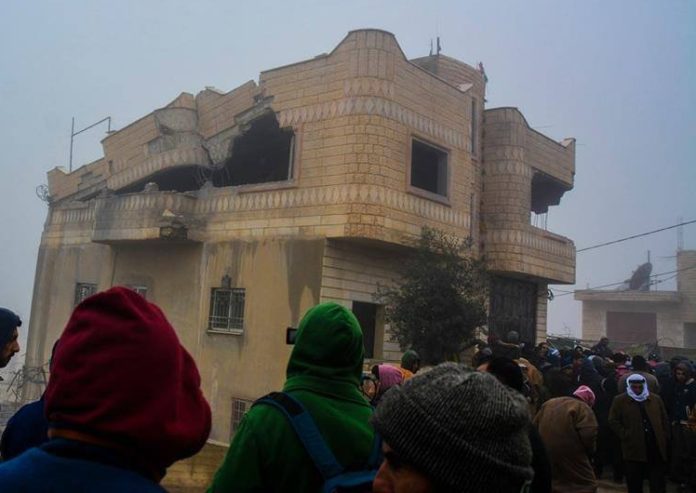 Israeli forces on Friday demolished the home of a Palestinian terrorist charged with fatally stabbing Ari Fuld H"YD, an American-Israeli father of 4, in Gush Etzion in September 2018.
IDF soldiers surrounded Khalil Jabarin's family's home in the southern West Bank village of Yatta. They sealed off his top-floor apartment with concrete and demolished it with explosives after his family cleared out.
The IDF says dozens of Palestinians protesting the demolition hurled rocks toward the forces, who responded with "riot dispersal means," which usually refers to rubber-tipped bullets and tear gas.
While Israel claims home demolitions serve as a deterrent to potential attackers, critics say the tactic amounts to collective punishment that inflames hostility.
On September 16th, 2018 a Palestinian terrorist murdered Ari Fuld, an American-Israeli civilian. Last night, we demolished the terrorist's residence. Terror will be met with a swift response. pic.twitter.com/s0AFDcfINe

— Israel Defense Forces (@IDF) January 18, 2019
Last night, Israeli occupation forces punitively blew up the home of the family of Palestinian prisoner in Israeli jails Khalil Jabarin in the town of Yatta, southern West Bank. pic.twitter.com/mAG2kdWYhs

— Quds News Network (@QudsNen) January 18, 2019
Scenes from the ruins of the home of the family of Palestinian prisoner in Israeli jails Khalil Jabarin in the town of Yatta, southern West Bank, which was blew up by IOF last night. pic.twitter.com/DXbbTrAK3E

— Quds News Network (@QudsNen) January 18, 2019
Last night, Israeli occupation forces punitively blew up the home of the family of Palestinian prisoner in Israeli jails Khalil Jabarin in the town of Yatta, the West Bank.
Jabarin was arrested by IOF in September 2018 after he stabbed and killed an Israeli settler near Hebron. pic.twitter.com/RwKVidyUTR

— Quds News Network (@QudsNen) January 18, 2019
Watch the moment when Israeli occupation forces blew up the home of the family of Palestinian prisoner in Israeli jails Khalil Jabarin in the town of Yatta, southern West Bank, last night. pic.twitter.com/zdnn0yEJE0

— Quds News Network (@QudsNen) January 18, 2019
The IDF blew up the home of the terrorist who murdered Ari Fuld (45), father of four children.

If they hurt us – we will hurt them! pic.twitter.com/nkWq5FGu4L

— Hananya Naftali (@HananyaNaftali) January 18, 2019