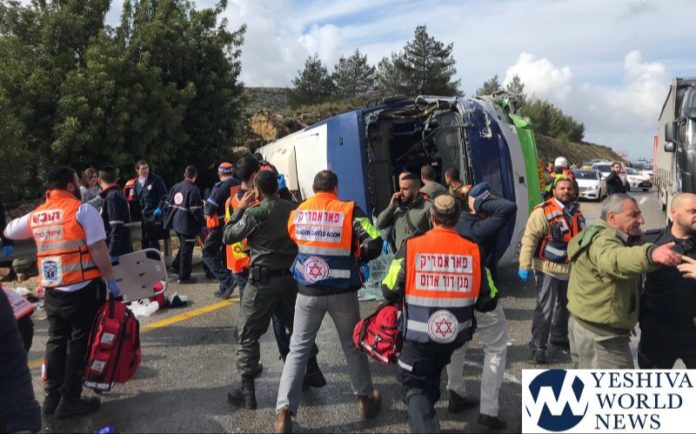 Two young women were R"L killed, and dozens injured in a horrific crash involving an overturned bus, Sunday morning.
The crash involved the "304 bus" which was travelling on Route 443 from Modi'in Illit to Har Nof in Jerusalem, and happened in the area of "Beit Horon".
Dozens of emergency personnel from Magen David Adom, United Hatzalah and other agencies responded to the scene. Some victims were trapped in the wreckage and needed to be extricated by the Fire Department. A crane was brought in to lift the bus to remove victims trapped underneath.
Israel police are confirming a total of 41 injured including 2 critical, 4 in serious condition, and the rest with light injuries (stable condition).
VICTIMS IDENTIFIED: The first victim has been identified as Mrs. Chaya Gutman A"H. She was 24 and a mother to a young child, just one and a half years old. She lived on Shaagas Aryeh Street in Modiin Illit, was the daughter of Reb Dovid Shlomo Mendleson of Kiryat Sefer, and the wife of Reb Hillel Gutman who learns in the Kolle at Yeshiva Knesses Hagdolah.
The second victim has been identified as Ruchama Rosen. She was 27. SHe lived on Meshech Chochma Street in Moddin Illit.
Tehillim is being requested for the following names:
חמדתיה דיצה בת רבקה
תמר בת רבקה
משה בן חנה הנדל
יונתן בן שולמית עטל
Deputy Health Minister Yaakov Litzman responded to the scene as well.
[ESCAPING THE HORROR: Footage Of Yeshiva Bochrim Crawling Out Of 304 Bus]
The cause of the crash is under investigation, although initial reports state that a vehicle in front of the bus suddenly slowed down to look at an accident in the opposite direction. The bus driver did not have time to stop in time, and swerved to avoid the car, causing the bus driver to lose control, resulting in the bus overturning.
The Kavim bus company issued a statement of condolences to the families of those killed and wishes for a speedy recovery for the injured. The company said it was cooperating with the investigation into the crash.
In a shocking twist of events, it is three years ago to the Hebrew date (ה אדר) when the "402 bus" was involved in a horrific crash on Highway 1, resulting in the deaths of six people R"L.