A combined Yisrael Hayom/i24NEWS poll released on Thursday, February 14, 2019, reveals some interesting information; as Yahadut Hatorah has nine seats, while the Shas party rides the minimum threshold to enter Knesset with four seats. No less interesting is the fact that Moshe Feiglin's Zehut party enters with five seats, while Bayit Yehudi, The Movement, Yachad, Ichud Leumi, Yisrael Beitenu, Otzma Yehudit and other parties fail to enter Knesset. This will obviously change if some or all of them sign agreements to unite. This is the last week in which parties may unite ahead of Knesset.
The poll included 604 respondents representing the eligible voting public with the margin of error being 4%. The number in the parenthesis represents last week's poll by the same organizations.
Likud 32 (28)
Israeli Resilience 19 (16)
Yesh Atid 12 (11)
Arab List 9 (8)
Yahadut Hatorah 9 (8)
Labor 8 (7)
New Right 6 (5)
Zehut 5 (4)
Ta'al 5 (4)
Shas 4 (4)
Gesher 4 (4) Orly Abekasis
The Movement 0 (1)
Bayit Yehudi 0 (1)
Yachad 0 (1)
Ichud Leumi 0 (2)
Yisrael Beitenu 0 (3)
Kulanu 0 (3)
Otzma Yehudit 0 (3)
Other parties 0 (1)
Another poll, Reshet Bet (Yoram Dekel Show) released on Thursday:
This poll was taken on Wednesday, February 14, 2019, by the Direct Polls Company, including 735 respondents representative of the voting Jewish and Arab Israeli public. The margin of error is 3.5%.
Likud 30
Israeli Resilience 20
Yesh Atid 11
Labor 11
New Right 10
Yahadut Hatorah 7
Arab List 6
Ta'al 6
Yisrael Beitenu 6
Shas 5
Meretz 5
Gesher 0 (but adds 2 seats to Israeli Resilience if they unite)
Kulanu 0
Parties uniting
Israeli Resilience + Yesh Atid 29 with Likud receiving 34
Right-wing uniting
Bayit Yehudi + Ichud Leumi + Otzma Yisrael & Yachad do not enter Knesset on their own, but uniting, they receive seven seats.
And finally, most Israeli Resilience party voters want to see Benny Gantz in opposition if PM Netanyahu forms the government rather than joining the coalition.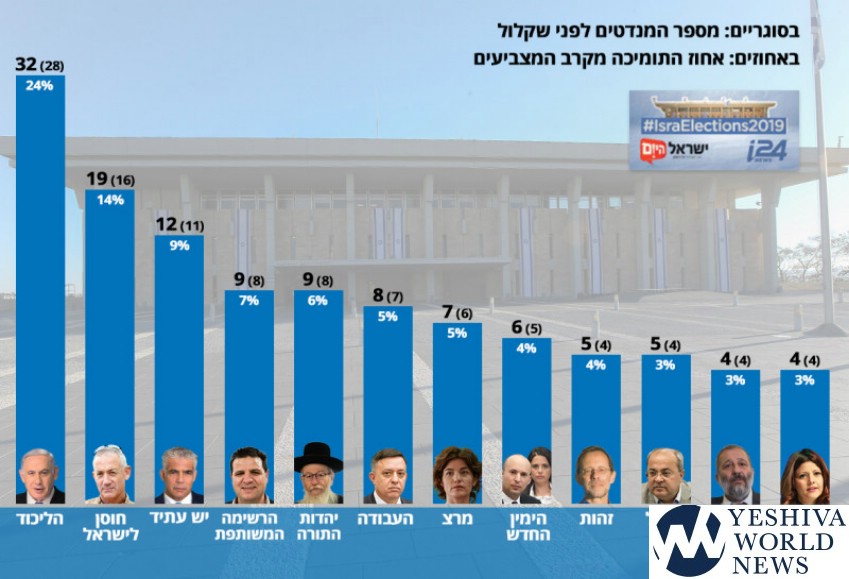 (YWN Israel Desk – Jerusalem)