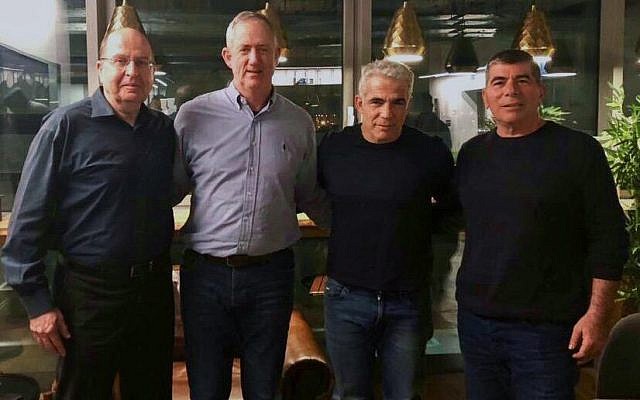 Following prolonged negotiations, less than 12 hours ahead of the deadline for submitting party lists, the Yesh Atid and Israel Resilience parties reached agreement to combine lists and run on a joint slate in the upcoming Knesset elections, set for April 9. According to recent polls, the joint party would top Likud for the most votes and pose a serious threat to end Binyamin Netanyahu's decade-long run as Prime Minister.
The deal was signed just before 6:00AM Thursday morning, with the parties telling the press, "Out of a sense of national responsibility, Benny Gantz, Yair Lapid and Boogie Ya'alon decided to establish a united list that would constitute the new ruling party of Israel."
"Something went wrong this past decade. Israel has lost its way," Gantz, a former IDF chief of staff, said on TV Thursday night. "Instead of separation, we offer unity. Instead of extremism, we offer patriotism. Instead of incitement, we offer national reconciliation."
According to the agreement, if the party wins the election and receives the presidential mandate to form a government, Gantz will serve as prime minister until November 2021 and Ya'alon will be defense minister during that time. Then, Lapid will become prime minister and Gantz will assume the role of defense minister.
In addition, members of the joint party announced that Gabi Ashkenazi would join the list and be placed in fourth place. This is now a party with three retired IDF Chiefs of Staff, Gantz, Ashkenazi and Ya'alon, giving it an astounding measure of credibility in the eyes of many voters.
According to their agreement, 13 of the first 30 positions will go to Yesh Atid and 12 positions will go to Gantz.
"A winning team needs to be led. I wouldn't be standing here today if I didn't believe that Benny Gantz could lead us to victory and then lead the country," said Lapid.
The list as released by Blue & White on Thursday afternoon:
1. Benny Gantz
2. Yair Lapid
3. Moshe Ya'alon
4. Gabi Ashkenazi
5. Avi Nissankoren
6. Meir Cohen
7. Miki Haimovitz
8. Ofer Shelach
9. Yoaz Hendel
10. Orna Barvibai
11. Michael Biton
12. Chili Troper
13. Yael German
14. Tzvi Hauser
15. Orit Farkash-HaCohen
16. Karin Elharrar
17. Merav Cohen
18. Yoel Razvozov
19. Assaf Zamir
20. Yizhar Shai
21. Elazar Stern
22. Miki Levi
23. Omer Yankelovitz
24. Penina Tamanu
25. Radir Mariach
26. Ram Ben-Barak
27. Alon Shuster
28. Ram Shefa
29. Boaz Toporovsky
Ashkenazi has long been working behind the scenes to make the union happen, urging the major players to put their egos aside in favor of the bigger challenge ahead. He announced he was joining the new party himself because of the "pivotal moment and the national task at hand."
The news is of real concern to the Chareidi parties, since they will not join a coalition in which Yair Lapid is a member, especially when he is part of the senior leadership, which raises the fear that they will once again sit in the opposition against the leadership of Lapid.
It should be noted, even if the joint list surpasses Likud at the ballot box, it is not guaranteed to form the next government unless it can garner a Knesset majority by forming a collation with other parties. But the dramatic merger seems enough to make the election a real fight for Netanyahu.
"For the first time since 2009, we have a competitive race for the premiership and this is the result of the emergence of this new centrist force," said Yohanan Plesner, a former lawmaker and president of the non-partisan Israel Democracy Institute.
"There are now, as a result of this unification, two, I would say, legitimate major parties … (but) it's not a done deal," Plesner said. "I think Netanyahu is still more likely to win and to emerge as prime minister at the end of this election campaign, but it is a competitive race."
The Likud said in response: "The choice is clear – either Lapid-Ganz's left-wing government with the support of a block of Arab parties or a right-wing government headed by Netanyahu."
Netanyahu himself has taken a hard turn to the right in recent days to shore up his electoral base.
On Wednesday, he postponed a trip to Moscow to meet President Vladimir Putin to stay home and reach a preliminary election deal with two fringe religious-nationalist parties, Bayit Yehudi and Otzma Yehudit, in a bid to unify his bloc.
It should be noted that against the backdrop of the unification, Eldad Yaniv of the New Country party said: "We will not run for the Knesset when a real opportunity is created to end Netanyahu's corrupt and inciting government, against which we fought for two consecutive years in the streets. Now, the time has come to succeed at the polls!"
(AP / YWN Israel Desk – Jerusalem)