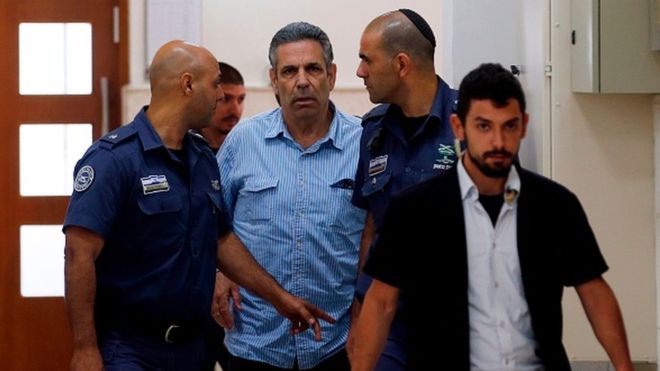 Former Israeli cabinet minister Gonen Segev will be sent to prison for 11 years for spying for Iran.
According to the plea bargain agreement, the former minister, who admitted the facts presented in the arrangement, was convicted of spying and providing information to the enemy.
Back in May 2018, the former Minister of the Tzomet Party, Gonen Segev, was arrested by the ISA (Israel Security Agency/Shin Bet) and the Israel Police on suspicion of committing offenses of assisting the enemy in war and spying against the State of Israel.
At the end of the investigation, on June 15, 2008, the Jerusalem District Prosecution filed an indictment against Segev in the Jerusalem District Court for these offenses, as well as for numerous offenses of giving information to the enemy. The indictment was approved by the Attorney General and the State Attorney.
Segev, who in recent years lived in Nigeria, arrived in Equatorial Guinea in Central Africa in May 2018. Segev was transferred to Israel at the request of the Israel Police, after Equatorial Guinea refused to allow him to enter its territory due to his criminal past.
Segev was arrested for questioning by the ISA and the police immediately after his arrival in Israel, after collecting information indicating that Segev was maintaining contacts with Iranian intelligence and assisting them in their activities against the State of Israel.
An investigation by the ISA and the police revealed that Segev was recruited and acted as an agent on behalf of Iranian intelligence, and that in 2012 a connection was established between Segev and elements of the Iranian embassy in Nigeria. Later he even arrived twice for meetings with Iranian operatives around the world in hotels and apartments. Segev received a secret communications system to encrypt the messages between him and his operators.
The investigation also revealed that Segev gave his operators information related to the energy market, security sites in Israel, buildings and officials in political and security bodies, and more.
In order to meet the assignments he received from his Iranian operators, Segev had ties with Israeli citizens related to Israel's security and foreign relations. Segev worked to connect some of the Israeli citizens to the Iranian intelligence, while trying to fool them and present the Iranian elements as innocent business agents.
This is not Segev's first entanglement with the law. In 2005, the Tel Aviv District Court sentenced Segev to five years in prison for trying to import 32,000 Ecstasy pills to Israel, forging his diplomatic passport and using it on two occasions.
(YWN Israel Desk – Jerusalem)