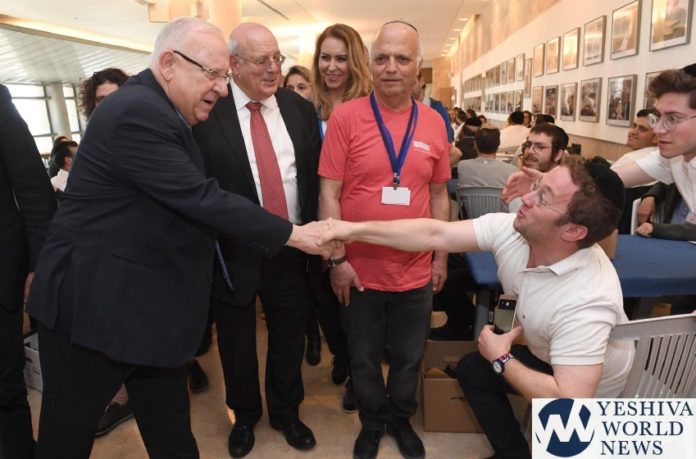 The round of consultations with the various parties ahead of the formation of the government will begin next week at the President's Residence.
President Reuven Rivlin visited this Knesset Wednesday morning, April 10, 2019, reportedly impressed by the vote counting process led by the Central Elections Committee.
On behalf of all the citizens of Israel, the President thanked the members of the Central Election Committee for counting the votes as well as working tirelessly in recent months to ensure the proper conduct of the election campaign and said: "You are the most professional and dedicated implementation of Israeli democracy. The most accurate expression, and that the rights of the people to fair elections and verified and accurate information are preserved, thank you for your wonderful work, I hope that you will soon be able to return to a blessed life until the next time."
President Rivlin met with the committee's chairman, retired justice, Chanan Meltzer, and it was decided the president will begin meeting with party leaders next week, towards hearing who they recommend receiving the mandate to form the next coalition government.
In a historic and first decision in the history of the President's Residence, the President instructed that his meetings with the various factions be broadcast live on all media platforms, in order to promote transparency vis-a-vis Israeli citizens. Broadcast details will be transferred to the media.
According to the custom, the president will meet with the representatives of the factions, hear their recommendation, and after the round of consultations with all the factions, one of the Knesset members will be tasked with forming the government.
It should be noted that from the moment the president imposes the task of forming the government, the elected Knesset member will have 28 days to form a new government in Israel under the Basic Law.
In the event that an extension of the process is required, the President is entitled to grant an additional extension of up to 14 additional days under the law. Representatives of the factions will arrive at the President's Residence in succession next week.
In addition, a large communications center will be established in the President's Residence. The heads of factions that request to give an official announcement to the media will do so immediately after the meeting with the president at the media center where the journalists will have all the necessary technical means and live broadcasts from the official residence.
(YWN Israel Desk – Jerusalem)