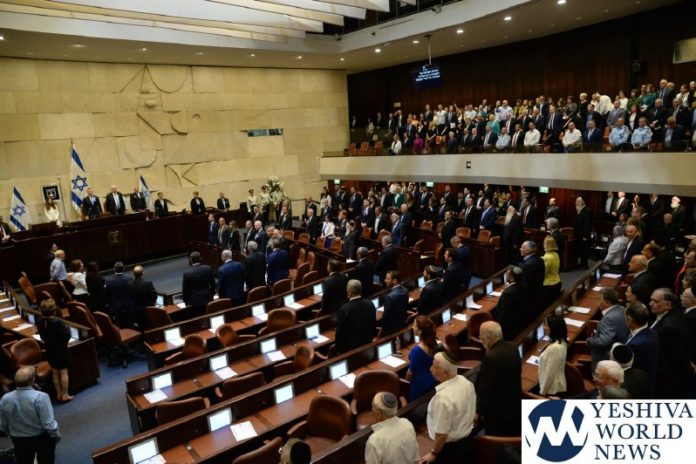 If anyone thought that the fact that there is no coalition yet will slow the 21st Knesset down from getting to work early, they were wrong. A total of some 900 new bills were proposed by members of the Knesset during the first two days of office.
The bills were submitted to the secretariat which now has the arduous task of arranging them all and organizing them to be brought up in later Knesset sessions.
The bills poured in from the first minute that the secretariat was open at 4:01 p.m. The majority of the bills, it should be mentioned, were left over from the previous Knesset. These were bills that did not pass through three readings previously and, therefore, were submitted again to advance them.
SoA good number of these bills were re-submitted by the same person who originally submitted them. However, there were quite a few that had been submitted by former Knesset members, who did not make it into the Knesset this time around and were resubmitted by new members, or veteran members, who recognized the value of the legislation.
Leading the way were MK Elharar who submitted 73 bills, MK Mickey Levy who submitted 70 bills, and MK Uri Maklev who out-ranked them all by submitting a whopping 100 bills.
Reigning Knesset Speaker Yuli Edelstein addressed the issue of legislation in the Knesset on Monday and asked the MKs to moderate the amount of legislation that they submit so as not to overburden the secretariat or the system.
Edelstein said: "In the outgoing Knesset, 5977 bills were placed on the Knesset's table, but only 4 percent of them were put into the law book after they passed all the readings," he said. I do not come here with an emotional call to not legislate – legislate, but look at the full picture, look at whether this is something that has feasibility and whether it justifies all the resources and money wasted on the taxpayer. See if your law is a law that has a chance to advance."
(YWN Israel Desk – Jerusalem)