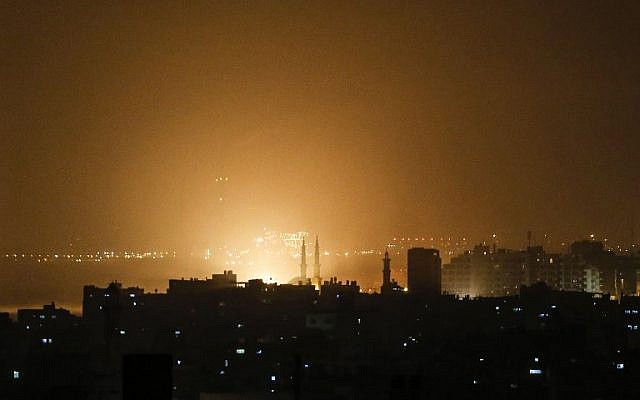 During the night (motzei Shabbos), Israel Air Force planes attacked more than 60 terrorist targets throughout Gaza, and since Saturday night the IDF has attacked about 200 terrorist targets in Gaza.
On Sunday morning, the IDF Spokesperson issued a list of the main terrorist targets attacked by Israel Air Force aircraft and naval battleships.
• A squad of rocket launchers and a military position of the Hamas terrorist organization in the northern Gaza Strip. In addition, attack-fighting shafts, military compounds and depots, warehouses and factories for the manufacture of weapons belonging to the Hamas and Islamic Jihad were attacked.
• Naval vessels attacked a number of operational vessels of the naval forces of Hamas and the Palestinian Islamic Jihad (PIJ) terrorist organizations throughout the Gaza Strip.
• Fighter aircraft attacked a weapons manufacturing plant in Jabalya and a military compound belonging to the Rafiach Brigade, which has a training camp with a concrete factory in which infrastructures are being built for the construction of fighting tunnels by the PIJ terrorist organization.
• A military compound of the PIJ terrorist organization was attacked in western Khan Yunis and the headquarters of the PIJ terrorist organization located inside a Shaati mosque and a military compound and training camp of the Gaza City Brigade of the PIJ terrorist organization in Shaati.
• A military compound with the houses of naval force operatives and a military building was attacked at the home of the Hamas naval commando unit in the Khan Younis neighborhood, which included tools for a combat tunnel.
• A military compound of the Hamas terrorist organization in Shaati was attacked as a training camp, a military office in the Hamas terrorist cell in the Rimal neighborhood, an arms depot at the home of a Hamas air force operative in Gaza City and a military post of the Hamas terrorist organization In the center of Jabalya in the northern Gaza Strip.
The IDF published an interim summary of the hours of 10:30PM to mid Sunday morning: About 180 launchings from the Gaza Strip were identified in Israel, and Iron Dome fighters intercepted dozens of launches.
Since the beginning of the rocket fire into the territory of the State of Israel, some 430 launches have been identified in Israeli territory. Iron Dome fighters intercepted more than 100 launches.
B'chasdei Hashem, most rockets are landing in open fields as clearly, the Iron Dome does not intercept every rocket.
(YWN Israel Desk – Jerusalem)